Did you know you can get real time arrival times via text message with our GO! service?
Just text your 5-digit stop ID to GOMTS (46687) and you'll get an immediate response with the next arrival times for all the routes at your stop!  
Note:  you may only request information for a stop once every two minutes.  If you send more than one request for the same stop within two minutes, GOMTS will not send a reply.  We recommend using our app OneBusAway which will give you real time arrivals, show the bus location on the map, save your favorite stops, send you reminders to catch the bus, and more!  
---
What's my stop number?
You can find your stop number at the bottom of each bus stop sign or in the left-hand corner of the bus pole schedule displays.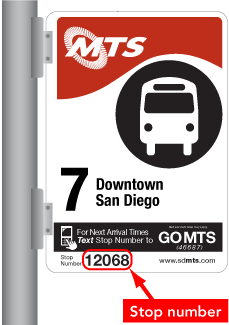 You can also get it by viewing the stop on our Schedules & Real Time Page using the map or calling our MTS Information and Trip Planning Office. 
---
FAQs
The text said the bus would come at a certain time, but it came at a different time.  Why?
GO! will tell you the time the bus is predicted to arrive at the time you sent the text message.  The closer the time the bus is supposed to arrive, the more accurate the predictions will be.  The bus may make up time or lose time since you sent your original text. 
In addition, if you are at a stop that's not at a timepoint in the schedule, the time GO! tells you is estimated.  We always recommend arriving a few minutes before the predicted time to ensure you catch your bus. 
What does GO! send me?
GO! will send you a text message back with the route, destination, and estimated number of minutes until arrival.  It will look like the following example:
215 SDSU: -2m
215 SDSU: 13m
1 GrossmontTrolley: 15m
If you see a negative time (a time with a minus sign in front), that means the bus has already passed that many minutes ago.
What if I only want times for one route at a stop?
If the stop you are requesting has many routes, you might not see the route you are waiting for in the text message.  In order to get only one particular route, text the stop number, then a space, then the route number.
10094 7
In this example, you will only get Route 7 at Stop 10094.
I'm not receiving any messages from the GO! service. Why?
GO! works with most cell phone providers through a short code (46687). However, some providers don't allow texting to a short code or you may have texting to short codes blocked on your cell phone plan to prevent services which charge for texting. We know that the following companies might not work with the short code: Straight Talk, Walmart Family Mobile, and Tracfone.
We have set up a regular phone number which provides the same information as our short code and will allow those who can't text to short codes to have access to GO! Please send your text to 619.632.5827.
If you texted a request for the same stop less than two minutes ago, you will not receive a reply.  
Is there a charge for GO! text messages?
Message and Data rates may apply. See our Terms and Conditions for more information.