A New Rapid Project is Underway in South Bay
Construction has begun on the future Rapid 227 (Iris Rapid) line that will run between Otay Mesa and Imperial Beach—connecting residents to coastal destinations, regional employment and activity centers, and the UC San Diego Blue Line. Rapid services are high-frequency, limited-stop routes that help move people to their destinations more quickly than traditional local bus services.
Rapid 227 will have new Rapid stations with enhanced lighting and passenger information, as well as other capital improvements to facilities along the route. Rapid 227 will be operated with a brand-new fleet of 12 articulated battery-electric buses – the first in MTS' fleet!
The construction work currently underway is building the charging infrastructure to power the new electric bus fleet. Soon, crews will begin constructing a new bus island on the west side of the Iris Avenue Transit Center. Following that will be the building of new Rapid stations along Coronado Ave, Imperial Beach Blvd, and Seacoast Dr; adding a traffic signal at Coronado Ave/30th Street to improve transit travel times; and, some modifications to the east side of the Iris Avenue Transit Center.
Public Hearing Notice
The San Diego Metropolitan Transit System (MTS) Board of Directors will hold a Public Hearing for the implementation of the Rapid Route 227 (Iris Rapid). As part of this project, Route 950 will be discontinued and service along that route will be replaced by the new Rapid Route 227. Changes, if approved, are currently projected to take effect in September 2023.
The Public Hearing will be held on Thursday, March 16, 2023 at 9:00 a.m. at 1255 Imperial Ave., 10th floor Board Room, San Diego, CA 92101 or via webinar; instructions for joining the webinar can be found at sdmts.com/about/meetings-and-agendas/board-meetings. Those who wish to submit remarks but cannot participate in the webinar may provide their comments to MTS no later than 4:00 p.m., March 15, 2023 by calling MTS Customer Service at (619) 527-4555, email customerfeedback@sdmts.com or writing to MTS Planning, 1255 Imperial Ave., Suite 1000, San Diego, CA 92101.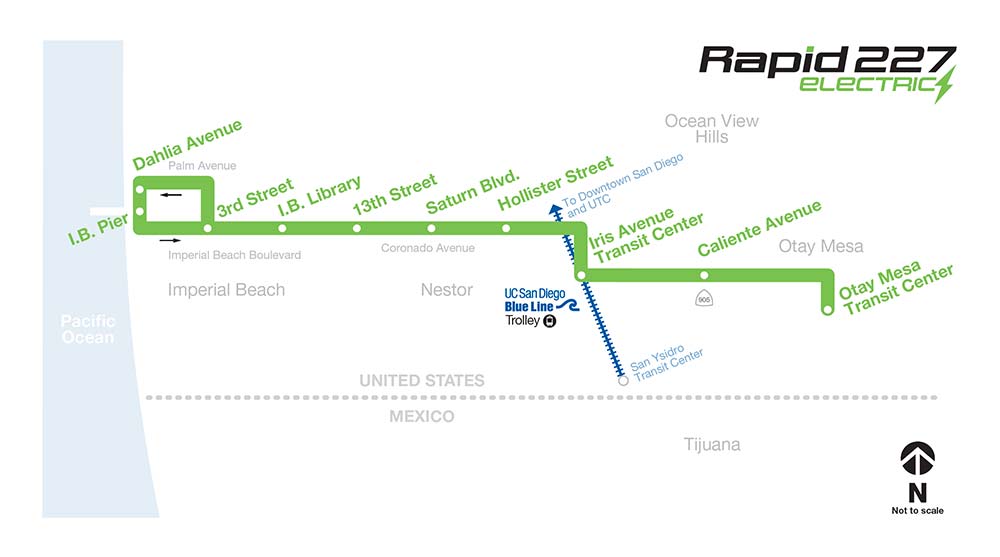 Public Hearing Notice Flyer (PDF)
Aviso de audiencia pública (PDF)
Project Timeline:
Fall 2019: Community engagement and project scoping
Early 2020: Operating plan finalized with input from public outreach and bus procurement
2020-2022: Rapid station design and engineering, bus procurement
2023-2024: Rapid improvements and station construction
September 2023: Rapid 227 soft opening service launch
Late 2024: Construction completion and full implementation of Rapid 227