A New Rapid Project is Coming in South Bay on October 15!
MTS' Rapid services are high-frequency, limited-stop routes that help move people to their destinations more quickly than traditional local bus services. Rapid 227 is a brand new Rapid route that will connect the communities of Otay Mesa, Nestor, and Imperial Beach with the Iris Avenue Transit Center. The route will offer residents and visitors new transit options to access coastal destinations, regional employment and activity centers, and the UC San Diego Blue Line. Features at full-build out will include frequent service throughout the day, new stations and amenities, capacity and reliability improvements at the Iris Avenue Transit Center, and 12 new electric articulated buses – the first in MTS' fleet! Rapid 227 is projected to launch this Fall.
Project Status (as of 9/13/2023)
Rapid 227 service is schedule to start on Sunday, October 15, 2023!
In March 2023, following a Public Hearing and comment period, the MTS Board of Directors approved the future implementation of Rapid 227 and its replacement of existing Route 950.
Workers completed the new western island at the Iris Avenue Transit Center, which will provide the expansion space needed for Rapid 227, as well as improve reliability and travel times on Routes 906/907 and 933/934. The new island will open to riders on October 15, 2023, and will be the new boarding location for Routes 907 and 934.
The 12 new electric articulated buses were delivered to MTS, and are going through inspections and commissioning. 
The infrastructure to charge the new battery-electric buses is completing construction at MTS' South Bay Division. The system, which will use pantographs from an overhead gantry, is one of the first such deployments in the United States.
Following the soft launch of the Rapid 227 in October 15, 2023, remaining construction will take place through 2024, including new stations and amenities, a traffic signal at Coronado Ave./30th St., and further improvements at Iris Avenue Transit Center.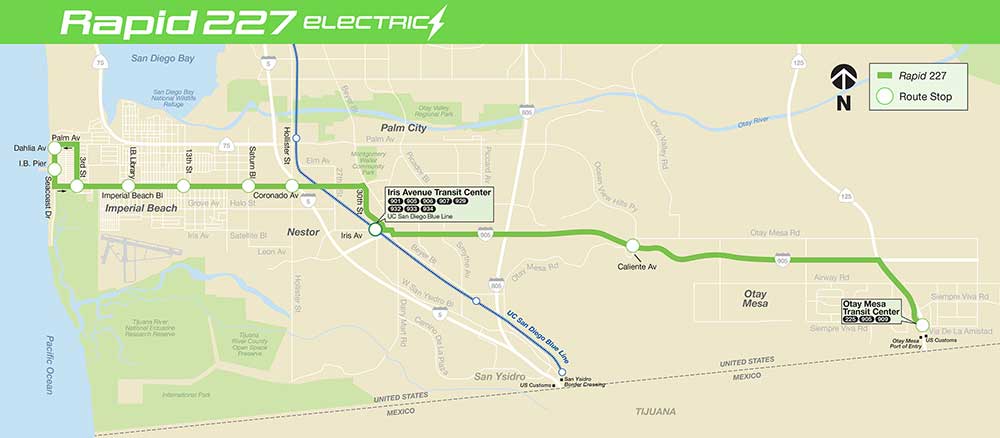 Project Timeline:
Fall 2019: Community engagement and project scoping
Early 2020: Operating plan finalized with input from public outreach and bus procurement
2020-2022: Rapid station design and engineering, bus procurement
2023-2024: Rapid improvements and station construction
October 15, 2023: Rapid 227 soft opening service launch
Late 2024: Construction completion and full implementation of Rapid 227