Comic-Con
Wednesday, July 19, 2017

to

Sunday, July 23, 2017
San Diego Convention Center
Join the League at Comic-Con 2017
---
Commemorative Passes Available Now! 
Pick up your commemorative passes at the Transit Store before the event starting on July 1, or at select Trolley stations during Comic-Con (locations listed below). 
Subject to availability - locations and times may change without notice.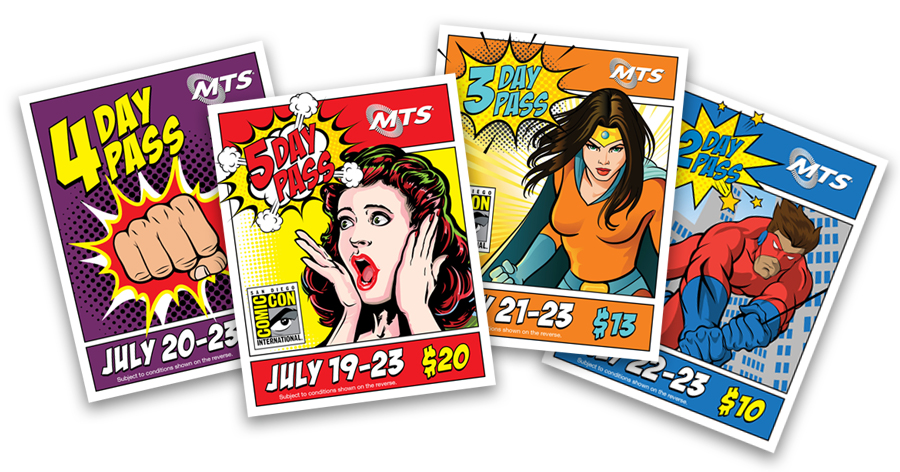 Commemorative passes will be available for purchase during Comic-Con at the following transit centers:
Qualcomm Stadium: Wed 3-8 pm, Th-Fri 6:30am-4:30pm, Sat 6:30am-12pm, Sun 6:30am-Noon
Fashion Valley: Wed 2:15-7:15pm, Th-Fri 6:15am-12pm, Sat 6:15am-5pm, Sun 6:15am-Noon
Hazard Center: Th-Sat 6:15am-2pm
Old Town: Wed 2-7pm, Th-Sat 6am-5:30pm, Sun 6am-Noon
Convention Center: Wed 6-10pm, Th-Fri Noon-9pm, Sat Noon-10pm, Sun Noon-7pm 
Gaslamp: Wed 6-10pm, Th-Fri Noon-10pm, Sat Noon-1am, Sun Noon-7pm 
---
Use your phone as your transit pass with Compass Cloud 
**Compass Cloud is accepted on all buses and Trolleys..
To purchase special event Comic-Con passes on Compass Cloud, select the 'Special Event' service, then select the preferred pass type. Please note that Comic-Con special event passes can't be activated until 7/19, and are only valid for consecutive days within the duration of Comic-Con, July 19 – 23). Be sure to purchase the right number of days for intended use! (ex. A 4-day pass is for 7/20-7/23)
---
Transit Station Parking (Parking at Hazard Center will be available after 5pm Thursday and Friday, all day Saturday and Sunday.)
Outside Comic-Con Events
You don't need a ticket in to Comic-Con to join in on the fun. Take a look at some of these events happening around town, then download Compass Cloud and let MTS get you to the fun.
Station Activations: Head to the Gaslamp Quarter, Convention Center and 12th & Imperial Stations to check out activations from Midnight Texas, Kong Skull Island, Ninjago, The Tick, Petco Interactive Zone & more! 
The "Largest Lightsaber Battle in the Country" is happening at Balboa Park, Saturday, July 21 at 8 p.m. Connect to Rapid 215 from the Trolley in downtown and join the fun! No admission necessary, all ages welcome. 
Deadquarters: Walking Dead fans can enjoy the Deadquarters 11 a.m. to 6 p.m. Thursday-Saturday, and 11 a.m. to 4 p.m. Sunday.
Fans 21+ can join Heroes Brewfest at Waterfront Park Saturday afternoon, starting at 4 p.m. Take the Green Line Trolley to County Center/Little Italy or Santa Fe Depot to enjoy 60+ breweries, costume contest, art exhibits and more. Tickets start at $20. 
Adult Swim's "Nighttime on the Green" will offer free screenings for fans who want to see the latest series and pilots, 8 to 10 p.m. Thursday and Friday. Adult Swim will host a "Rick and Morty" event with creators Justin Roiland and Dan Harmon Saturday evening at Petco Park. Use the East Village Gate to line up at 7 p.m. The show will run from 7:30 to 11 p.m. For more info, visit adultswim.com/presents.
FXhibition gives fans an interactive expereience with shows like American Horror Story, Legion and more. Trolley to Hilton Bayfront 10 a.m. to 6 p.m. Friday and Saturday, and 10 a.m. to 2 p.m. Sunday. 
---
2017 Service Information
Address and Directions
Address:
San Diego Convention Center
United States