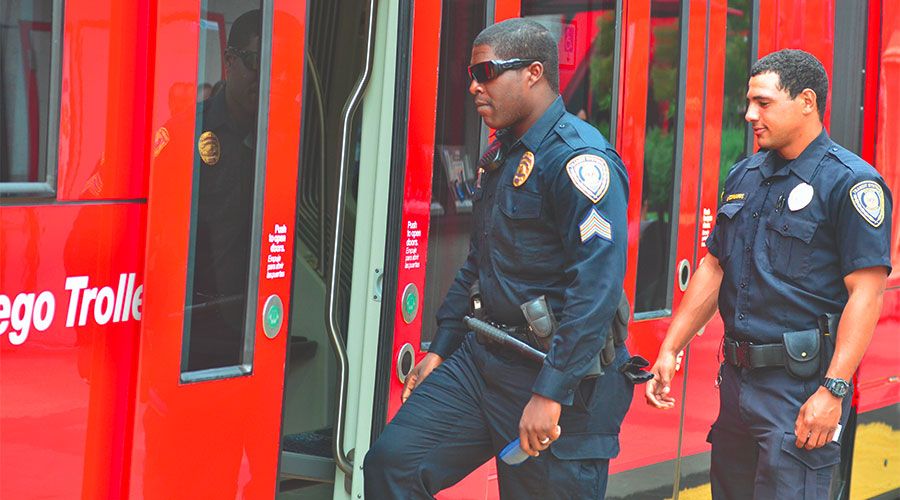 MTS takes transit security seriously, and you can help!
---
---
MTS employs a total of 170 security officers to help ensure passenger safety while traveling with MTS. With more than 570 square miles to cover across three Trolley lines and more than 90 bus routes in the region's urban areas, security is a team effort.  Not only does MTS work closely with other local law enforcement agencies, but officers rely on passengers to help alert them to suspicious, illegal or disturbing behavior. In 2013, MTS launched a texting line to give passengers a direct way to communicate safety issues with the security team.
MTS Director of Transit Enforcement, Manuel Guaderrama, says passengers should text or call when they see someone violating a law or ordinance; creating a disturbance onboard or at stations; or when they see suspicious behavior, including:
Someone appearing nervous
Someone taking pictures or video of restricted areas
Someone attempting to access off-limits areas
Anyone setting a package or bag down and leaving 
An unattended package or package or bag with lumps, bulges, protrusions or visible wires, tanks or bottles
A package or bag giving off vapors or odors
When texting or calling security, remember to have the following info:
Location: Which bus route or Trolley Line are you on? What is the vehicle number? Which stop?
Situation: What is happening? Describe the illegal activity or suspicious/disturbing behavior.
Who: Include a description of the passenger(s) involved including gender, clothing, etc. 
Providing this information can help security officers identify an incident faster in onboard video. If there's an immediate emergency onboard, passengers should contact 9-1-1 directly.  
"Always pay attention to your surroundings, and don't hesitate to contact us if you feel something isn't right," said Guaderrama. "It's better to err on the side of caution and give us an opportunity to investigate the concern. Making a call or sending a text about witnessing a crime or seeing something suspicious to the proper authorities can make all the difference."