Take MTS to the Airport
---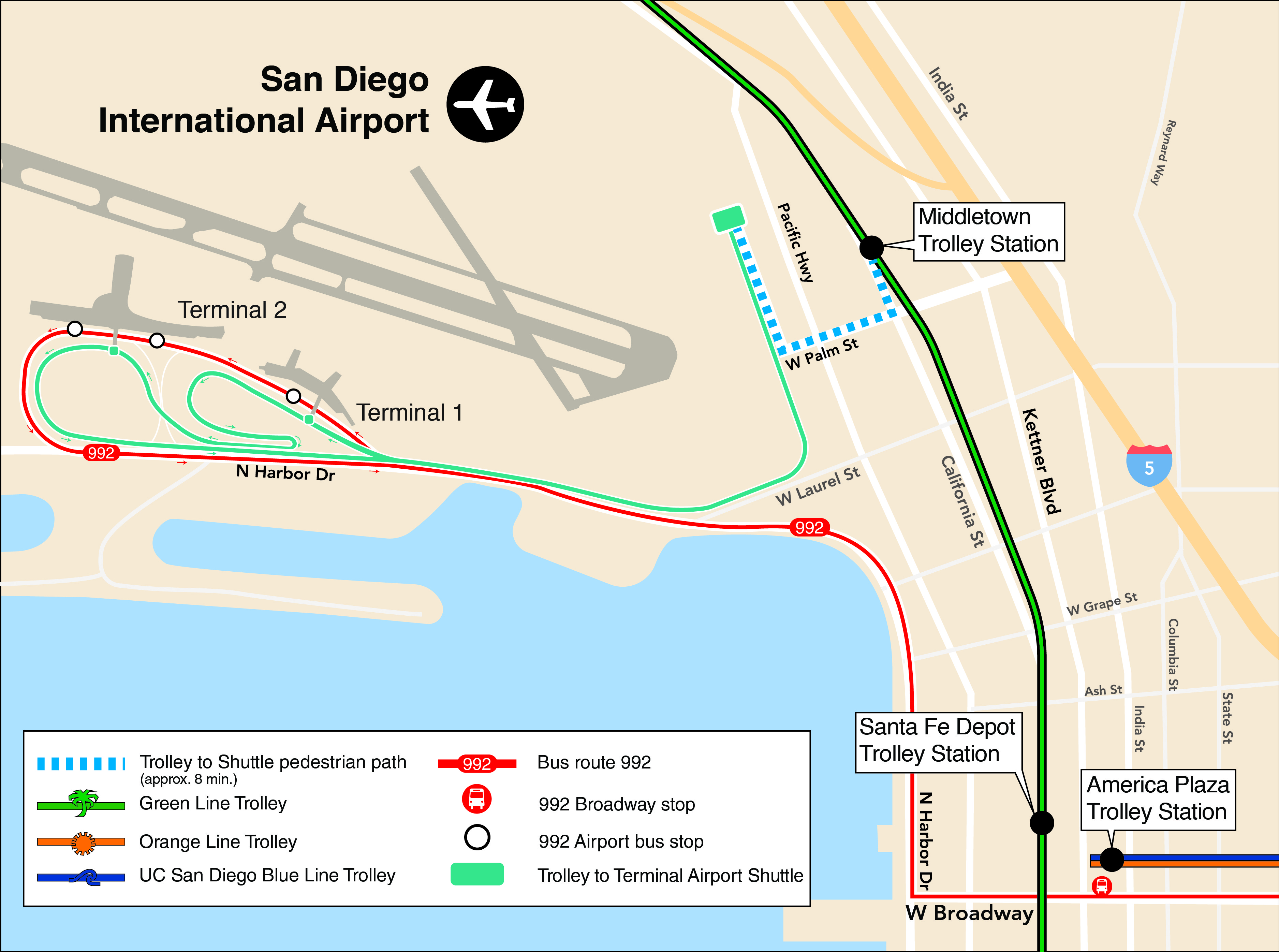 ---
There are now two ways to take transit to the airport:
Take route 992 to Santa Fe Depot to connect with all 3 Trolley lines, two Rapid lines, the COASTER and the Amtrak. Ride to or from the airport in about 10 minutes with curbside drop-off/pick-up right outside baggage claims in both terminals 1 and 2. Service on the 992 is every 15 minutes for most of the day, 7 days a week. One-way fares are just $2.25 or get a day pass to take advantage of Rapid and Trolley service for your whole journey.
View 992 Schedule
You can also get off the Sycuan Green Line Trolley at the Middletown Trolley Station to connect with the free Airport Shuttle (provided by the San Diego Airport - down Palm Street and across Pacific Highway). The "Terminal to Trolley" shuttle runs every 10 to 15 minutes.
Ticket Vending Machines for MTS services are located near the Information Centers of both Terminals 1 and 2, as well as at the Middletown and Santa Fe Depot stations. Ticket Vending Machines sell Compass Cards with one day passes, multiple-day passes, and monthly passes.  You may also reload your existing Compass Card.  The machines accept cash (and give change up to $15) and credit cards.
Or you can use the Compass Cloud mobile ticketing app on your smartphone for your whole trip!
---
Visiting San Diego? 
Popular Destinations
Find out how to get from your hotel to popular sights
How to Ride
Familiarize yourself with how to get around San Diego using our system
Compass Cloud Mobile Ticketing
Use your smartphone as your pass with the Compass Cloud mobile ticketing app
News and Events