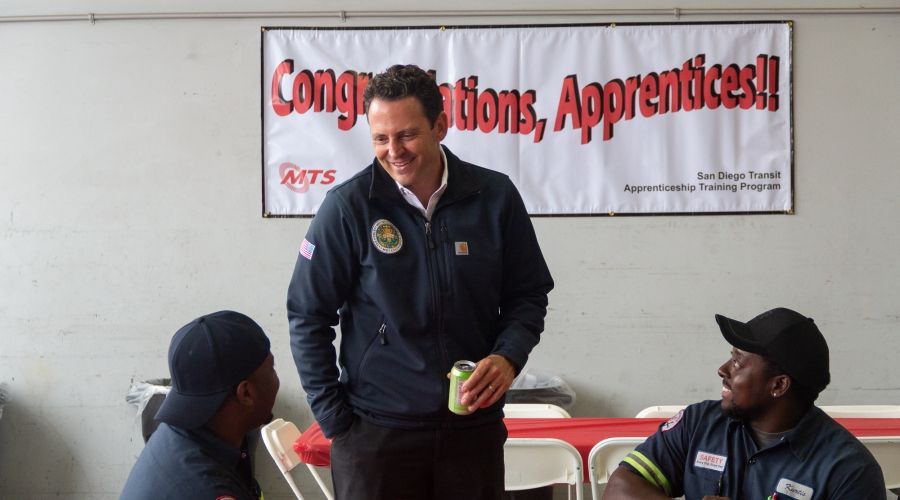 Fletcher Re-Elected Chair of MTS
Supervisor Nathan Fletcher continues leadership of agency through major initiatives
        San Diego, CA – In a unanimous vote today, the San Diego Metropolitan Transit System (MTS) board of directors re-elected San Diego County Supervisor Nathan Fletcher to a second two-year term as chairperson. His appointment will run through December 2023.
        "It is a great honor to continue leading our region's public transit system," said Nathan Fletcher, MTS Board Chair, and Chair, San Diego County Board of Supervisors. "The Board is dedicated to safely and reliably moving San Diegans around our region. Before COVID-19 our system was one of the few in the nation seeing consistent increases in transit ridership. Our task ahead is to build back better--maintaining our safe environment, on-time service, and quality customer service. Together we will take transit into the future and create a cleaner, greener, more equitable San Diego."
        Supervisor Fletcher was elected in 2018 to represent 640,000 residents in the County of San Diego's Fourth Supervisorial District, which spans from Paradise Hills in the south, east to Encanto and north to UC San Diego. As MTS Board Chair, he has led MTS through transformative milestones including:
Leading the agency through the pandemic and boosting ridership ahead of recovery projections
Developing a conversion plan for the agency's bus fleet to all-electric by 2040
Expanding the transit system with the launch of the UC San Diego Blue Line Trolley extension to UTC, and better frequencies on popular routes
Implementing PRONTO - a new and equitable fare collection system
Implementing a fare citation diversion program that limits fines and offers passengers alternative ways to pay fare violations
Adopting reforms to the agency's use-of-force policy and using many of the principles in the 8 Can't Wait campaign as a guideline
Lowering the cost of youth passes and allowing free transfers to make transit more accessible
Ensuring safety and dignity for MTS riders and employees
        Prior to the pandemic, MTS was experiencing month-over-month ridership increases. While the COVID-19 pandemic certainly impacted transit operations, under Chair Fletcher's leadership MTS has been implementing new policies and programs to regain ridership and ensure safety. Residents of San Diego County depend on MTS to get to work, school, doctors appointments, and more. It is an integral part of a dignified and reliable system that serves so many in San Diego. And with the launch of the first new Trolley extension in years on November 21, Chair Fletcher will focus on serving existing customers as well as new ones.
        Supervisor Fletcher was appointed by Governor Gavin Newsom to serve as a member of the California Air Resources Board. He is also a member of the Governor's Council of Regional Homeless Advisors, and Co-Chair of the Child & Family Strengthening Advisory Board. He is a decorated Marine Corps combat veteran, has served in the California State Assembly, and has been a political science professor at UC San Diego since 2013.
        The MTS Board is made up of 15 local elected officials – four from the City of San Diego, two from Chula Vista, and one each from the County of San Diego, Poway, Santee, El Cajon, La Mesa, National City, Lemon Grove, Coronado, and Imperial Beach.
Chair Nathan Fletcher (County of San Diego, District 4)
Vice Chair Alejandra Sotelo Solis (Mayor of National City)
Chair Pro-Tem Mary Salas (Mayor of Chula Vista)
Paloma Aguirre (Imperial Beach)
Mark Arapostathis (Mayor of La Mesa)
Sean Elo Rivera (San Diego, District 9)
Caylin Frank (Poway)
George Gastil (Lemon Grove)
Jill Galvez (Chula Vista)
Todd Gloria (Mayor of San Diego)
Steve Goble (El Cajon)
Ronn Hall (Santee)
Monica Montgomery Steppe (San Diego, District 4)
Vivian Moreno (San Diego, District 8)
Bill Sandke (Coronado)
        MTS operates 95 bus routes and three Trolley lines across 10 cities and unincorporated areas of San Diego County. Frequencies and spans have been restored to near-pre-COVID-19 levels. Updated schedules can be accessed on the MTS website. MTS requires people to wear face coverings at all times, and practice physical distancing when possible.