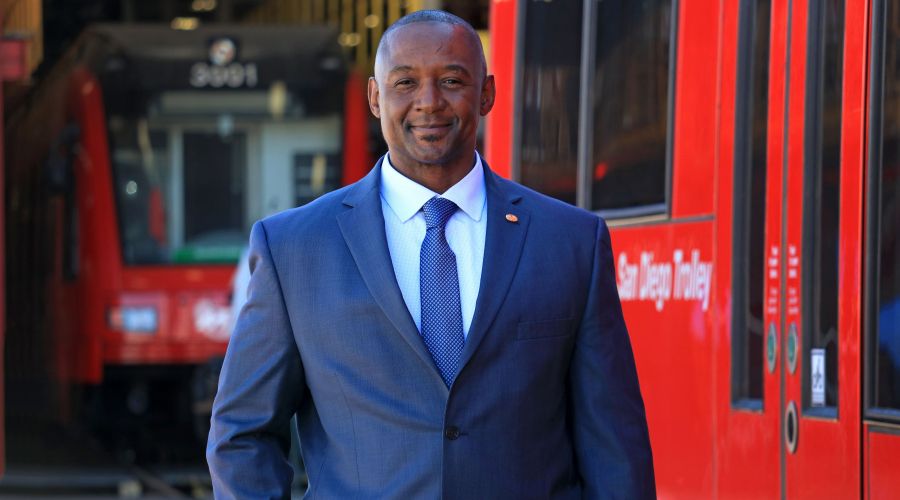 Brian Riley, New MTS COO of Rail
FOR IMMEDIATE RELEASE
            San Diego- The San Diego Metropolitan Transit System (MTS) has named Brian Riley the agency's new Chief Operating Officer of Rail. Riley, who started his career at MTS as a train operator in 1999, and most recently served as Superintendent of Transportation, will now oversee 555 operations and maintenance employees. Riley will be responsible for MTS rail operations, light rail vehicle maintenance, facilities maintenance, maintenance of wayside, safety, and state and federal regulatory compliance. Riley takes over for Wayne Terry who recently retired after working at the agency for 42 years.        
            "Brian Riley has been a dedicated employee and leader at MTS for the past 23 years, and has unparalleled expertise in rail operations. His work ethic and enthusiasm for MTS's mission moved him up the ranks at MTS," said Sharon Cooney, MTS chief executive officer. "At MTS, we take a lot of pride in promoting from within, and Brian has been an integral part of the agency's growth. His long tenure at MTS has prepared him well for this new leadership role, and we are confident he is the right person to take the helm of our growing rail system." 
            "This is an exciting time at MTS, and I couldn't be more proud of the employees who I will work alongside in this new capacity," said Riley. "Our new 11-mile light-rail extension to La Jolla/UTC is thriving as it approaches the one-year anniversary on Nov. 21. Our rail system is in a solid state of good repair, we continue to operate a top-notch safety program and so much more. I look forward to continuing this track record of success into the future."
Riley's promotion comes after more than two decades of moving up the ranks at MTS. Roles he's previously held include:
1999-2000 Train Operator

2000-2003 Controller Supervisor

2003-2010 Operation Control Center Supervisor

2010-2016 Assistant Superintendent of Transportation

2016-2022 Superintendent of Transportation

2022 – Chief Operating Officer, Rail Division 
            Riley has had extensive educational and leadership development within the transportation industry, including, but not limited to: ENO Center for Transportation's Leadership program; professional certification in Management and Leadership from San Diego State University; professional certifications including Transit System Safety, Emergency Management, and more.
Riley also recently served as the Chairman of the Mid-Coast Extension Rail Activation Committee, overseeing the expansion of the UC San Diego Blue Line 11-mile extension, which opened one year ago this month. He currently serves as the Chairman for the American Public Transportation Association (APTA) Operating Practices Working Group, and the San Diego and Arizona Eastern Railway Co.
(Photo of Brian Riley attached)
About MTS
The Metropolitan Transit System (MTS) operates more than 100 bus routes and three Trolley lines in 10 cities and unincorporated areas of San Diego. MTS is a leader in advancing initiatives to create a greener, cleaner and better-connected transit system in San Diego. Each weekday nearly 200,000 passenger trips are taken throughout the MTS system taking people to work, school, health appointments and other essential trips. In FY 2022, MTS served more than 57 million riders. For service schedule updates, news, alerts and more information on how you can use public transportation, go to www.sdmts.com.
###