New deployment plan will triple agency's enforcement capability
San Diego, Calif. –The San Diego Metropolitan Transit System launched a new Security Staffing Plan aimed at making the system safer by restructuring the composition of MTS' security personnel and making changes to their deployment schedule. The plan was fully implemented this month.
"Passenger safety is a top priority for MTS," said Paul Jablonski, MTS chief executive officer. "The new security staffing plan will add a greater uniform presence on our system. This is another strategic step MTS has taken to boost system-wide security."
The new plan increases the number of MTS Code Compliance Inspectors (CCI) from 34 to 64 employees.  The additional CCIs will enable MTS to implement a beat system, where each beat will consist of three to five trolley stations patrolled by a 'train team' made up of a security officer paired with a CCI. This new deployment strategy nearly triples the presence of CCIs at any given time. In a related move, the number of contracted security officers will be reduced to make room for the additional CCIs. MTS has approximately 200 CCIs and contracted security officers patrolling the system.
The train teams will allow MTS to increase uniform presence during the Day Watch, maintain the same uniform presence during the Night Watch and give the system more access to greater enforcement capabilities. The beat system will allow security teams to patrol the same beat for an extended period of time to improve familiarity, and develop a better sense of the characteristics and customers at a limited number of stations.   
This new security strategy builds upon the formation of the Joint Agency Task Force in 2015. This four-person team of police officers from different law enforcement agencies assists in patrolling the MTS system and provides support during special events, while helping bolster officer experience and powers of arrest.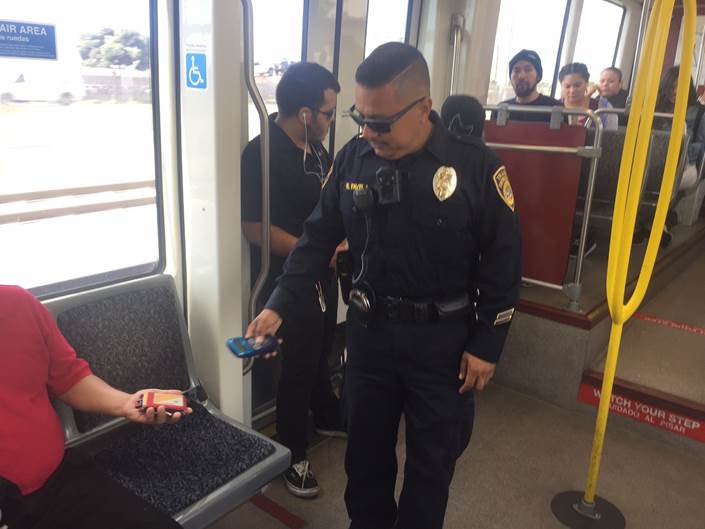 Other efforts to boost system security MTS has made include:  
Enhanced video systems on all Trolleys and most transit stations
Body cameras for code enforcement officers
A canine unit to patrol trains and respond to reports of suspicious packages and bomb threats
"Eagle Team" – a special unit to patrol late night trains on the Orange Line and UC San Diego Blue Line
Joint security training exercises with partner transit and law enforcement agencies
MTS operates 95 bus routes and three Trolley lines on 53 miles of double-tracked railway. Every weekday more than 300,000 passenger trips are taken on MTS bus and Trolley services in 10 cities and the county. In FY 2017, MTS served more than 88 million riders. For more information on how you can use public transportation and save money, go to www.sdmts.com.
Photo: Code Compliance Inspector, Ricardo Favela, checks a passenger's transit fare during a routine inspection onboard an MTS Trolley.  
###