San Diego – The Metropolitan Transit System logged 250,000 extra passenger trips over the four days of Comic-Con – 5% higher than the agency carried last year.
"First, I'd like to thank MTS employees for delivering on transportation for another successful special event for San Diego. Events of this magnitude require an organized, well thought-out plan to maximize service that can carry large loads of people to a single destination over multiple days," said Stephen Whitburn, MTS Board Chair and San Diego City Councilmember, District 3. "It's not easy and the numbers speak for themselves. It's great to see our transit system playing such a critical role to make Comic-Con a success year after year."
MTS increased service on all three main Trolley lines and implemented a Comic-Con Special Event Line to transport tens of thousands to the San Diego Convention Center and surrounding areas daily. Features such as free parking and discounted fares helped encourage attendees to use transit. This helped alleviate traffic congestion in and around downtown, and offered convention-goers an affordable and convenient way to get to all the action.
This agency wide effort allowed for 250,000 Trolley riders, including 100,000 riders on the Comic-Con Special Event Line (which experienced a 13% increase over 2022), to travel to and from the convention. The main increases came during the first two days (Thursday and Friday), where ridership increased 16% and 9% respectively.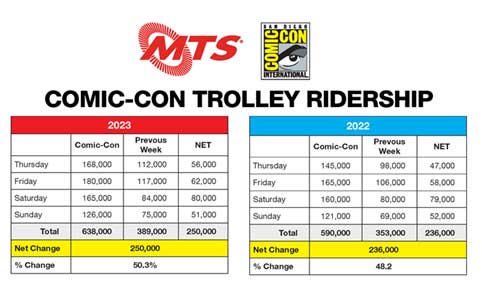 About MTS
The Metropolitan Transit System (MTS) operates more than 100 bus routes and three Trolley lines in 10 cities and unincorporated areas of San Diego. MTS is a leader in advancing initiatives to create a greener, cleaner and better-connected transit system in San Diego. Each weekday more than 220,000 passenger trips are taken throughout the MTS system taking people to work, school, health appointments and other essential trips. In FY 2022, MTS served more than 57 million riders. For service schedule updates, news, alerts and more information on how you can use public transportation, go to www.sdmts.com.
###