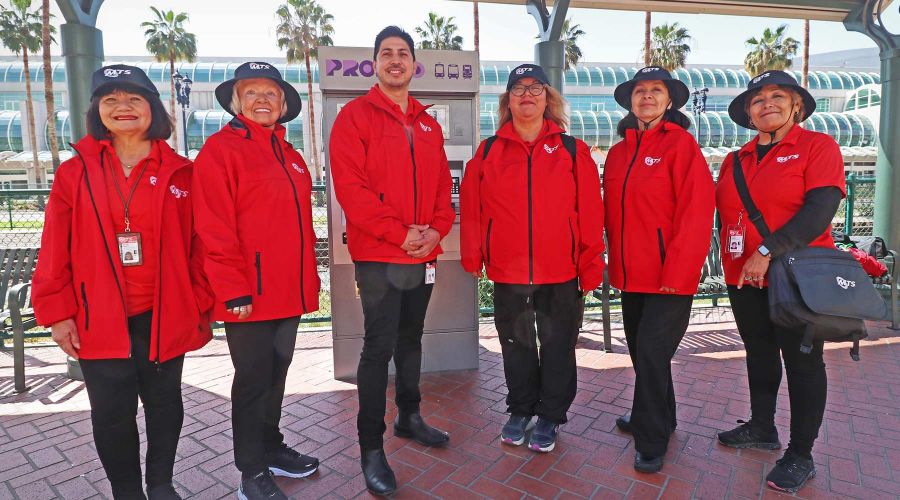 Traveling around San Diego can be a headache when you're unfamiliar with where you are going, or with a new form of transportation to get there. We know that transit can be an intimidating option when trying to make a trip plan, buy a fare or navigate the system. Which is where some of our MVPs come in: Passenger Support Representatives. Passenger Support Representatives are often staffed at our busier transit stations and during special events to provide help to our riders, offering a friendly face (and some answers to FAQs) when riders are unfamiliar with what to do or where to go. The team is an integral part of MTS customer service. Take a few minutes to learn about the team and how they can help you next time you're out and about!
Common Public Transit Questions
Passenger Support Representatives (PSRs for short) assist with crowd control during busy events and provide support and general assistance to riders at busier transit centers throughout the week. Think of them as your own personal "transit guru." Got a question on how to use the ticket machine? Need directions? Not sure where to make your next transfer? PSRs help riders navigate the MTS system and give information on where to go and how to get there safely.
Some of the most common questions PSRs get are about the Trolley itself. "(People) get very confused because they seem to think (that) because we have Green Line, Blue Line, and Orange Line, they think that our Trolleys are going to be that color," explained Mayra Carrillo, Lead Passenger Support Representative. 
After explaining that all the Trolleys are red, Carrillo will inform a passenger how to figure out a Trolley destination by looking at the headways signs. Last year during Comic-Con, MTS introduced a new flag system to help new riders to the system by making train line identification easier among the jam-packed stations. A PSR holds a colored flag to help passengers know which Trolley is at the station.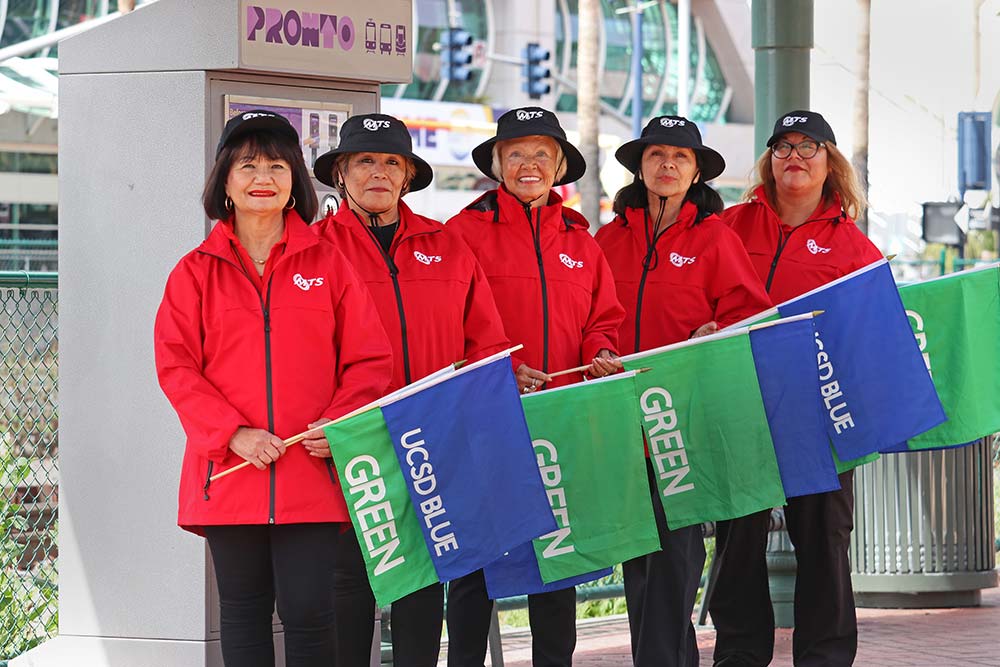 "We use the flags for major events. I think it gives (passengers) a sense of security knowing they are going to the right place," said Carrillo.
Other situations involve passengers who haven't ridden MTS for a while. "(We) encounter situations where (customers) have a Compass Card and they have not used our system in a long time. We give them the whole briefing of how we switched systems, and this is how PRONTO works, and what the benefits are," stated Carrillo.
Ultimately, our team of 30 Passenger Support Representatives is there to support riders. "We try to do the best customer service we can," said Maria Alvarado, Passenger Support Representative. "(And) we're here to help them with any transit-related questions." You may also note the next time you ask for help, a PSR will pull out a handy deck of QR codes, with links to the most popular pages and transit resources on our website. While PSRs are invaluable, they can't be everywhere at all times, so the hope is to help educate passengers with where else they can get information online for their next trip.
Where to Find A Passenger Support Representative
And while we can't have a PSR out at all 50+ Trolley stations 24/7, the team is strategic in placing staff where they can be of most use based on passenger travel patterns.
PSRs are often available to assist at:
San Ysidro
Palomar Street
12th & Imperial
Old Town
Santa Fe Depot
Typical Times:
Monday through Friday from 6:00 a.m. to 6:30 p.m.
Saturday and Sunday from 7:00 a.m. to 8:00 p.m.
They are also available during special events like Padres games, concerts, Comic-Con, sporting events, and more. You can identify them by their red MTS "PASSENGER SUPPORT" uniforms.
Passenger Support Will Rep a New Uniform
In addition to increased staffing and hours, one other change the team recently made was a more comprehensive uniform change, which rolled out this month. Before the new uniforms, the team was not always easily identified by passengers.
"We were being confused with people from outside that would come in and do crowd control with us," said Carrillo. "We'd get confused for a flagger, a contractor, or facilities."
There needed to be an easier way for passengers to identify the PSR team without confusion.
"While the team had a variety of MTS branded items, we felt it was important that there be consistency for our customers to know who this team was and what they were there to do," said Amanda Denham, Director of Support Services. "By explicitly adding 'PASSENGER SUPPORT' to their uniforms, riders can now more easily understand their role."
"We're so excited because we'll finally be able to identify as a department," explained Carrillo. "People will be able to identify us as people that can assist them. I think it'll help us stand out and reinforce us. People think it's just a uniform, but we're representing MTS and we won't get confused as a flagger, or a contractor. We're very excited that we're going to have our full uniform and be able to step out on our platforms and represent MTS."
Next time you are at one of our stations and need assistance, look for one of our staff in their new uniforms. They will be happy to help!