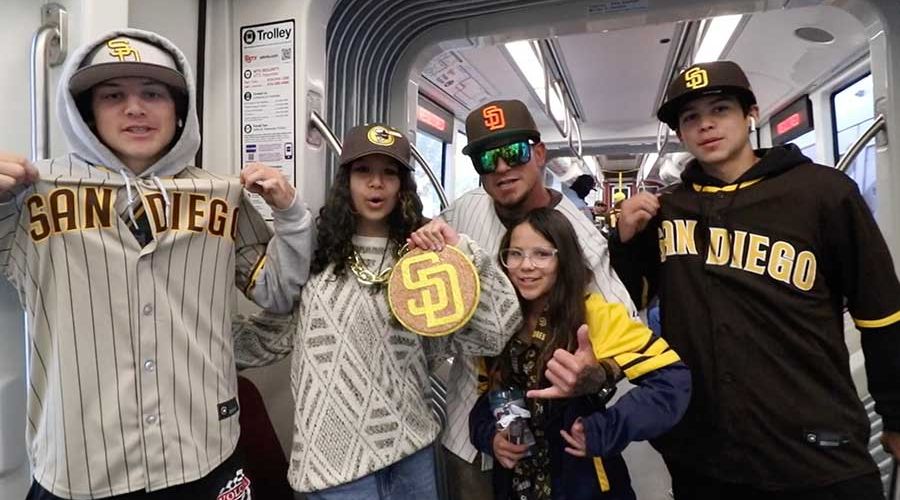 Baseball is back! After the Padres' exciting run to the playoffs last season, this year is looking better than ever. Fans are eager for baseball to start at Petco Park. Season ticket memberships are sold out, and a record-breaking number of sellout games at Petco Park are expected this season. And while big crowds means lots of fun at the game - it also means lots of traffic (especially with limited parking in downtown). Your best bet to have a good game day experience is to let MTS get you to the stadium! Make your visit to Petco Park easy with MTS all season long. We're here with the rundown on how to get to Petco Park with transit this season. (You can also check out our dedicated Padres service page.)
Get Your PRONTO Card (and Load It)
The first thing you'll need to do is get a PRONTO card if you don't already have one! We *highly* discourage fans from buying paper one-way tickets on game days, as fans will find themselves in long lines pre-and post-game. (Plus, with PRONTO, you can load your one-way fares for game day, or more for future use.)
You can choose between a free virtual PRONTO card (on the PRONTO app) or obtaining a physical PRONTO card (one-time $2 fee). Every passenger will need a separate PRONTO card or app account to pay for their fare.
Virtual Card
Get a free virtual card by downloading the PRONTO app onto your smartphone. Use Google Play or the App Store. Search for "PRONTO San Diego" and then register your card online.
Physical Card
You can obtain a card at Trolley stations, the Transit Store, and retail outlets. Click here for a list of PRONTO outlets in San Diego.
PRONTO Fares
Be sure to load your card with your transit fare before game day to avoid ticket lines. We recommend loading enough money for a round-trip ($5 for Adults, $2.50 for Seniors). Then, simply tap your card or scan the app on a station validator before boarding. A one-way fare will be deducted (and includes any transfers within two hours). Then, after the game, with enough money loaded on your card, you can simply tap or scan again without having to purchase another fare!
Planning on going to multiple games? You can add more money for future use on PRONTO. Money added to PRONTO never expires.
| Fares | Adult | Senior / Disabled / Medicare |
| --- | --- | --- |
| One-Way Fare | $2.50 | $1.25 |
| Earned Day Pass | $6.00 | $3.00 |
Going to the game with your family? You can save even more! Take advantage of the MTS Youth Opportunity Pass (18 and under ride free) or Family Weekends (two kids 12 and under ride free with an adult, no PRONTO card needed) promotions.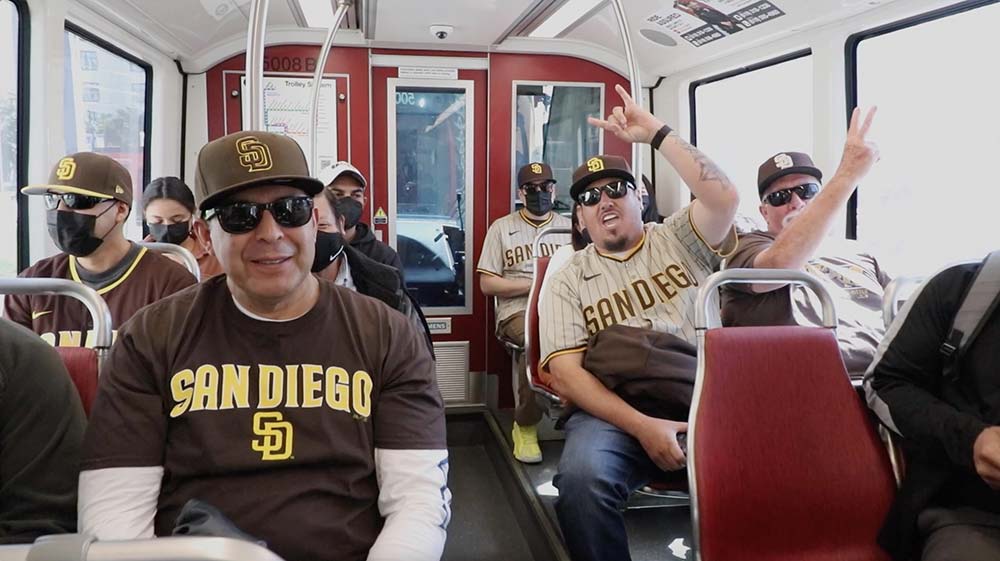 Use Our Trip Planner for Directions
The MTS Trip Planner is the best way to get point-to-point directions for your trip to Petco Park. It will give you the best route to help you plan your day.
Tap or Scan Before Every Ride
Tap or scan your PRONTO card/app at a station validator every time you ride! A one-way fare will be deducted (valid for free transfers for two hours) up to the value of a Day Pass ($6).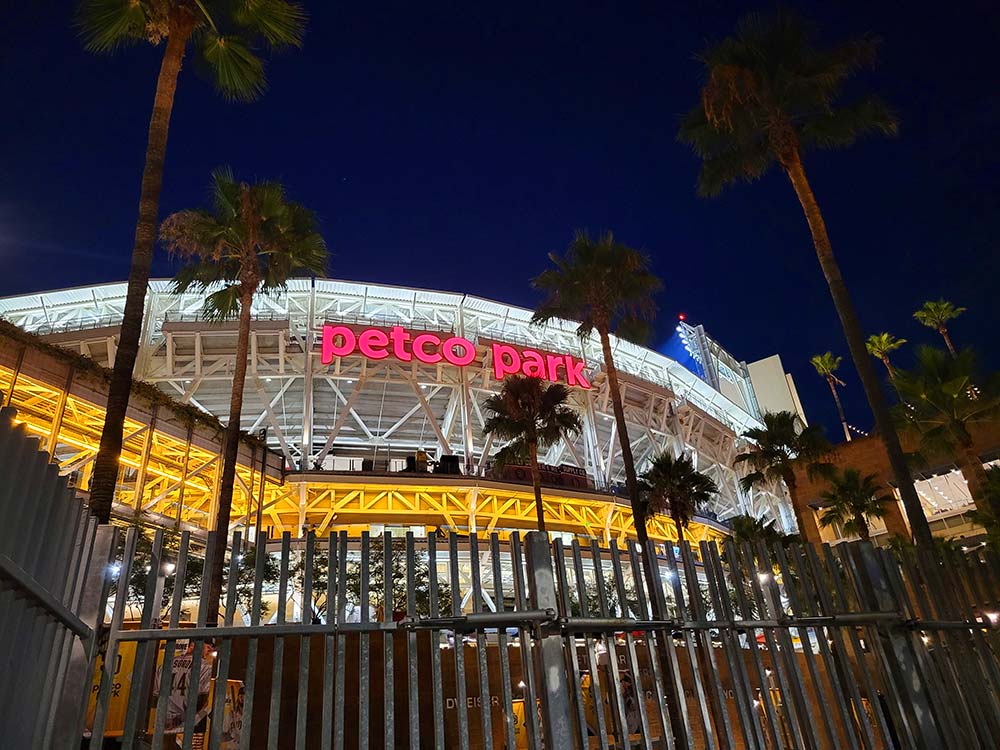 Use Our Park & Ride Lots
Avoid parking downtown and take advantage of free Park & Ride lots across the Trolley system. You can see our complete list of recommended Park & Ride lots on our Petco Park page.
Ride the Trolley to Petco Park
Petco Park is easily accessible via all three Trolley lines. The 12th & Imperial Station (Orange and UC San Diego Blue Lines) and Gaslamp Quarter (Green Line) are the closest stations, each within one block of the stadium. Park & Market (0.2 miles) is also within walking distance. 
Trolley service runs every 15 minutes or better before pre-game. Additional service is as-needed post-game. Check our Events calendar for service information. 
Traveling on the COASTER? You can transfer to the Green Line Trolley at Old Town or Santa Fe Depot for service to Petco Park.
Take the Bus to Petco Park
Our Rapid line offers frequent, limited stop service to downtown San Diego with Park & Ride lots from Escondido, Rancho Bernardo, and Sabre Springs to the South Bay lots in Otay Ranch and East Palomar.
Take the Rapid 215, Rapid 225, and Rapid 235 to the City College stop, and transfer to an Orange or UC San Diego Blue Line Trolley to Park & Market or 12th & Imperial.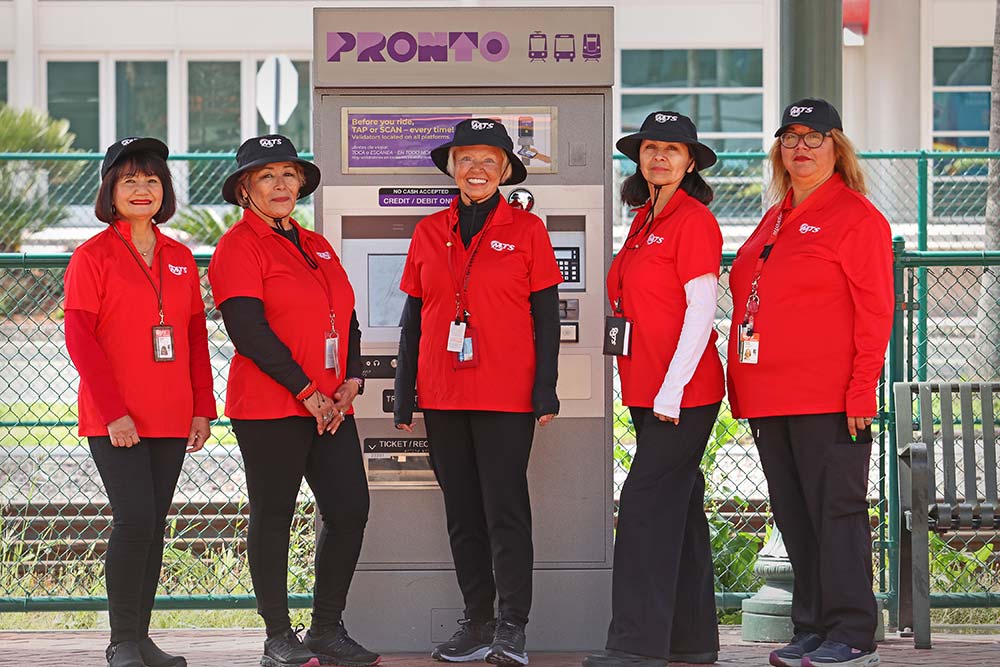 Need Help? Ask a Passenger Support Rep
If you need assistance figuring out what Trolley to take, how to use your PRONTO card, or how to use the system in general, be sure to look for one of our helpful Passenger Support Representatives. They're out and about on special event days to help with the extra crowds.
It's easy to make a game plan and use transit. We're excited to see fans out riding the system so be sure to tag us @sdmts in your Padres gear as you head to Petco Park. Go Padres!