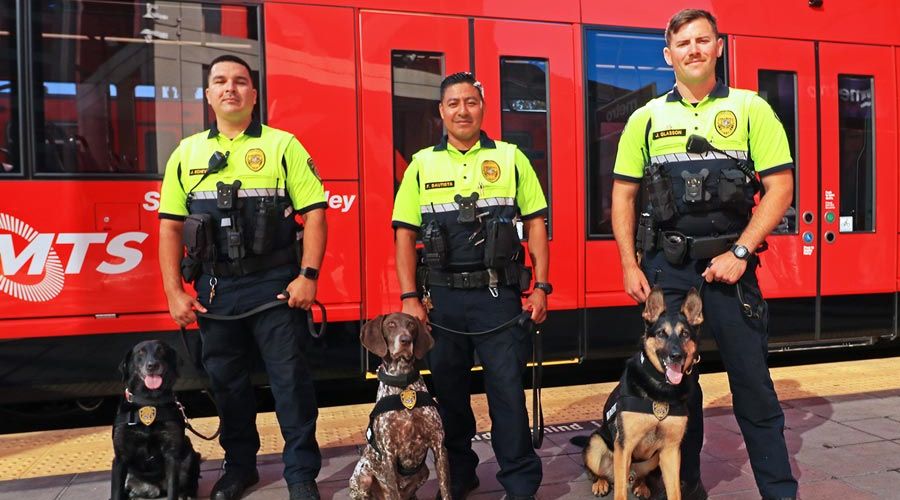 The MTS K-9 Unit
It may come as a surprise that MTS has dogs on staff! The MTS K-9 team works at events with large crowds, like Padres games, Comic-Con, the Big Bay Boom, and more. With their incredible sense of smell, the dogs can sniff out and detect explosives around transit centers, buses, and Trolleys. Their presence at crowded events and transit stations also works as a deterrent to help prevent dangerous situations to keep riders safe.
The MTS K-9 unit started in 2005 and currently has three furry canine members on the team. The dogs are:
K-9 Aska, a six-year-old German Shorthaired Pointer who works with Sergeant Francisco Bautista. She's been a working dog for MTS for four and a half years. Her favorite treat is peanut butter and she loves squeaky tennis balls.

K-9 Tempest, a six-year-old Labrador Retriever and works with CCI Jeremy Echeverria. She used to work at LAX before joining the MTS team. Her favorite treat is peanut butter and she loves belly rubs.

K-9 Apacs, a three-year-old German Shepard and the youngest of the K-9 team. His partner is CCI Jonah Glasson. Apacs also loves peanut butter and belly rubs and his favorite toy is a Kong chew toy.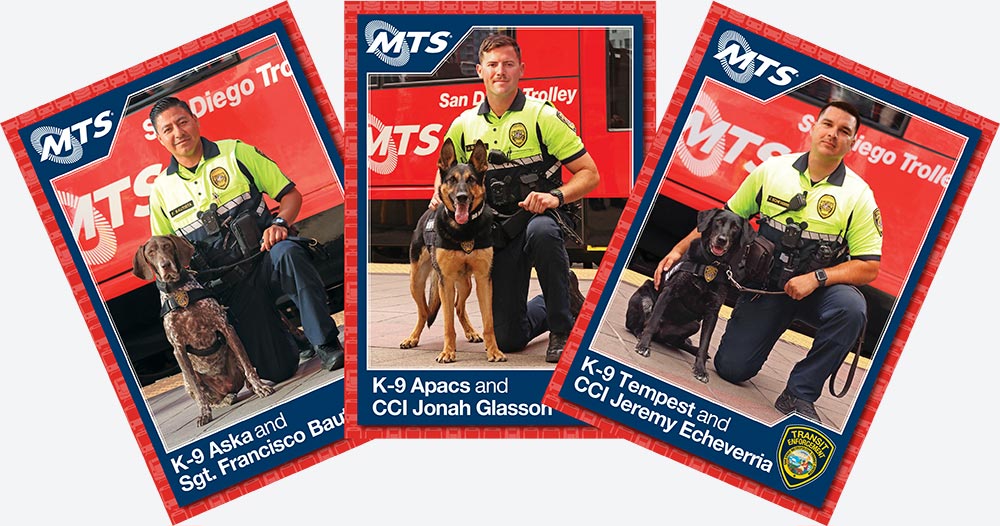 K-9 Trading Cards
When MTS needs a new handler, their name is submitted to the Transportation Security Administration's (TSA) waiting list. Once accepted, the future handler goes to Lackland Air Force Base in San Antonio, Texas for an 12-week training course. The dogs get about 80% of their training on base and then finish up with their new handler as a part of the bonding process.
Finding a good fit between dog and handler is more than looking at cute dog photos. Similar to working with a local shelter organization to find the right fit between a dog and a family, TSA works hard to find a good match between a working dog and its handler.
New handlers are asked many questions. "A lot of guys talk about their lifestyle. If they're active, if they like to go hiking [or] running, or if they just like to be a couch potato," says Sergeant Francisco Bautista, the supervisor of MTS's K-9 unit. "Do they have a house with a big yard or not? Do they have other pets? All kinds of different information that you provide in the class help determine what dog is best suited."
The training course prepares handlers for all aspects of dog care, from a dog's anatomy, what diseases to look out for, how to groom and feed your dog, and more. "Somebody that knows nothing about dogs [are brought] up to speed. It really is meant to take care of everything you need to know," says Sgt. Bautista.
In some cases, the dog that is initially assigned to a handler may be swapped out! "They tell you at training to not go out and get your dog's name tattooed," chuckled Sgt. Bautista. "It's happened! [Being a handler] is very coveted by many officers. People have been waiting years and they get so excited, they get bonded with the dog but by the end of the training, they may have another dog."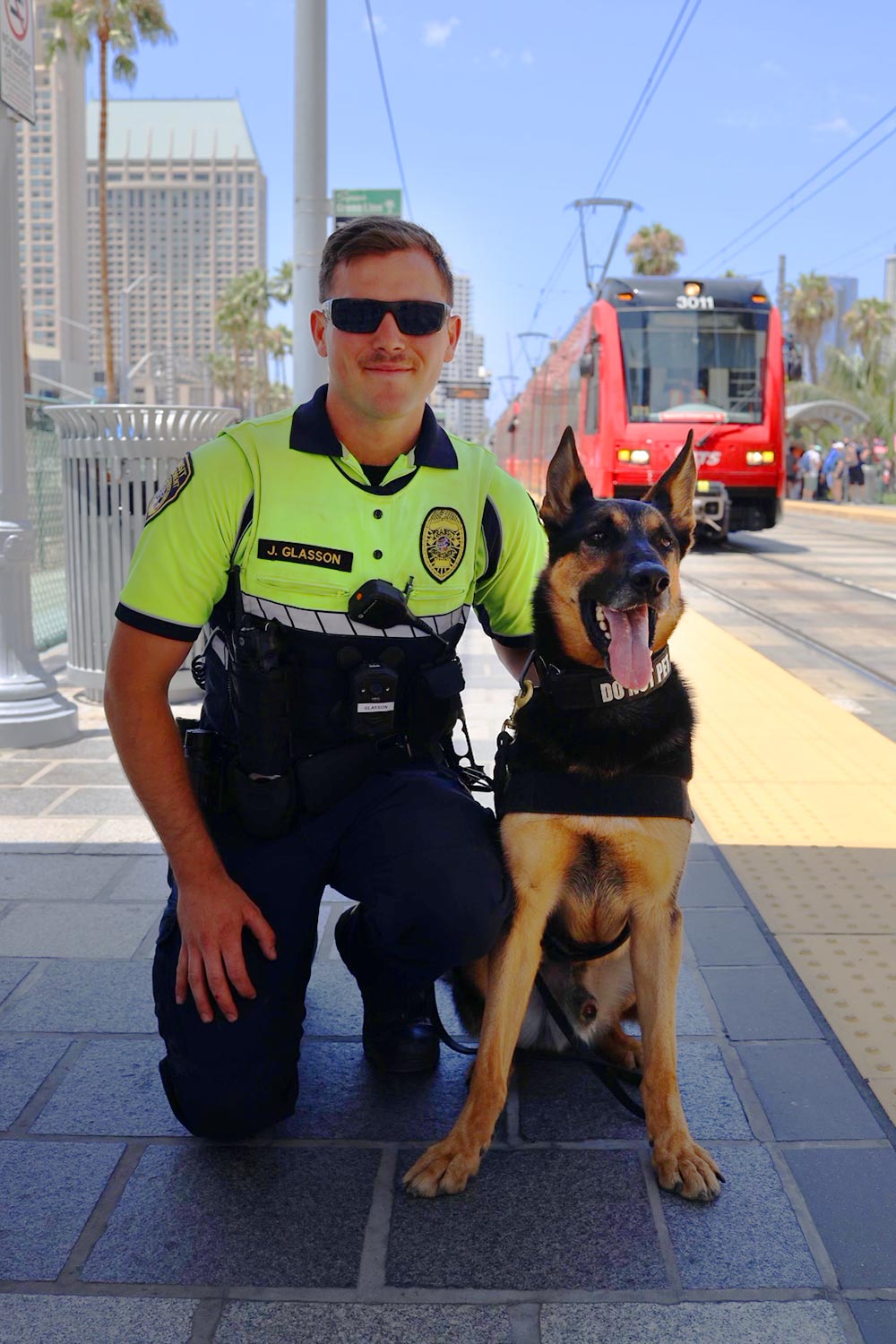 CCI Jonah Glasson and K-9 Apacs working at Comic-Con.
After training, dogs live full-time with their handler. MTS provides handlers with everything they need to care for their dog, from vehicles equipped with canine cages, to kennels, and any other necessary supplies. The dogs become a part of the family, but they are working dogs, not pets.
"It's a balance [between] the way you interact with the dog. The point of a working dog is working it and having that drive, it's only fun for the dog when we do it at work, if we're having a lot of fun at home then the dog will be like it's more fun at home than at work," explained Sgt. Bautista.
In addition to working large events for MTS, the K-9 team conducts almost daily training to help maintain proficiency. They work around buses, Trolleys and stations, vehicles, warehouses, luggage, and open areas to enhance the performance of the dogs.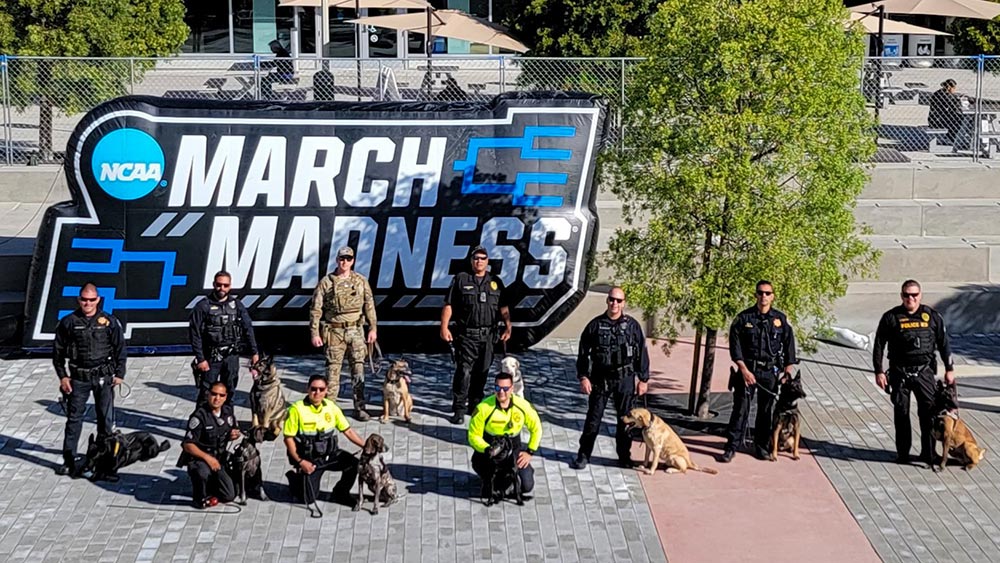 K-9's Aska and Tempest assisted with a multi agency sweep for March Madness at Viejas Arena with the San Diego State University Police Department.
The K-9 team also works with other agencies, such as the San Diego Sheriff's department, San Diego Police, the Coast Guard, or any other agency that requests assistance. "We go everywhere in the county, we're a regional asset. We work very closely with all the other explosive detection K-9 units. We train each other a lot," said Sgt. Bautista.
Earlier this year, Aska and Sgt. Bautista signed up to help the Los Angeles Police Department at the Super Bowl working to be highly visible during the game. They also worked at the NFL Experience and got into all of the nooks and crannies of the L.A. Convention Center trying to sniff out any potential explosives and hazards. Tempest and CCI Jeremy Echeverria will also be working at the Super Bowl next year at State Farm Stadium in Phoenix.
When the workday is over, the dogs transition back into home life. They know the difference between working hours and being off the clock. Sgt. Bautista says that Aska can tell when the workday starts and when the workday ends. She sleeps in the car and knows when they're home because she knows all of the turns from the freeway! After a long day of keeping riders safe, the dogs can relax and be fresh for another day. Thanks to our K-9s and their handlers for helping to keep us protected!