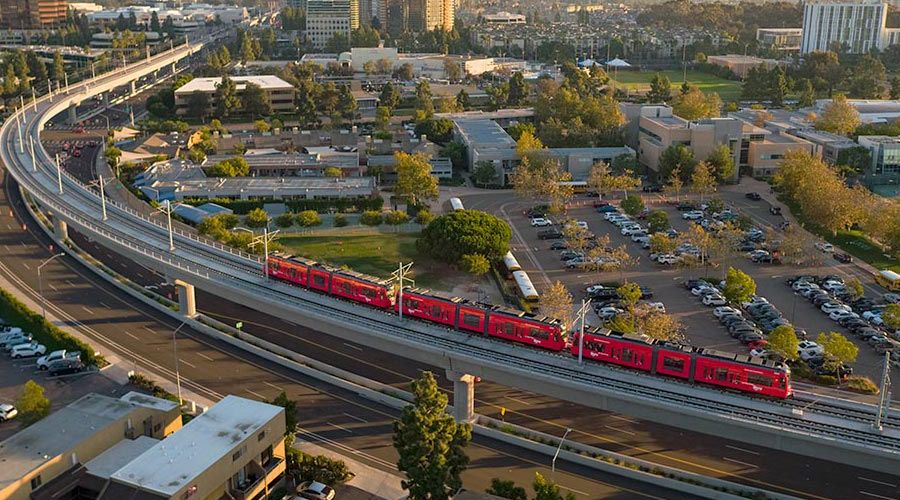 The UC San Diego Blue Line Trolley heading to UTC
A year has passed since the UC San Diego Blue Line Mid-Coast extension opened last November, and what a year it was! The Blue Line extension has proven to be quite a popular route, accounting for 12% of all Trolley ridership. The extension helped provide greater access to education, employment, and entertainment, delivering riders a fast and easy way to get to the La Jolla and UTC area.
Watch our recap video below and then read on for a few highlights from the first year of operations.
Share Your Story with MTS
If you're so inclined, share a photo with us on social media of your trips along the extension and tell us: how have you used the extension to explore more of San Diego? How has the new service improved your commute? Use #sdmts to share with us!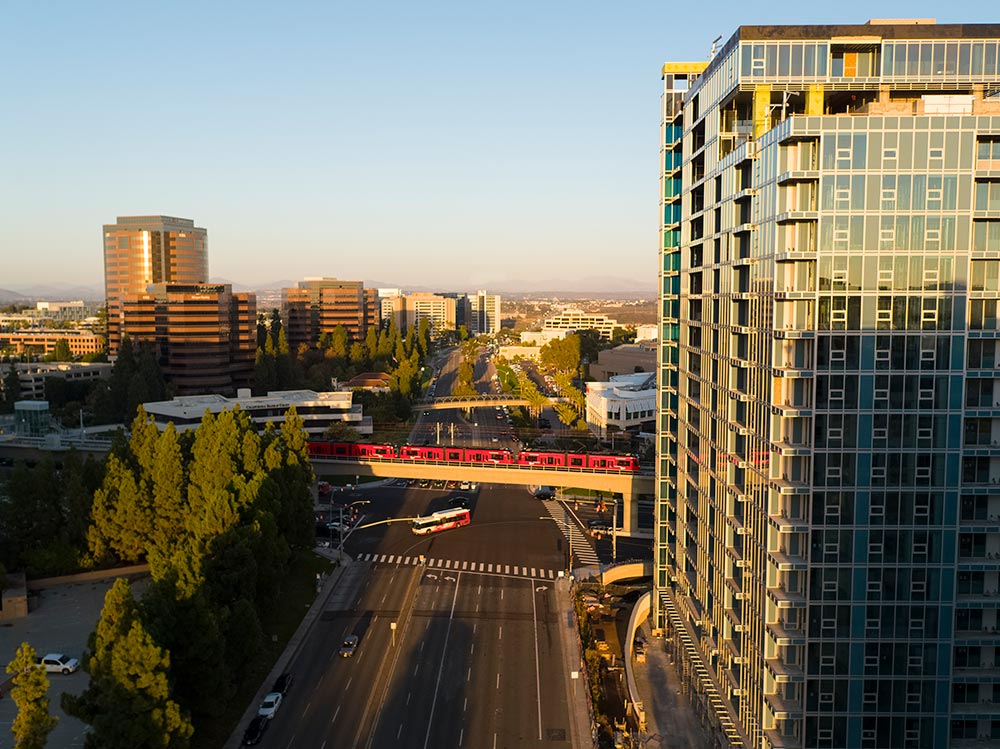 Education
Students have greatly benefited from the UC San Diego Blue Line extension, which offers direct service to two educational institutions in the area: UC San Diego and Preuss. About 300 students from the Preuss School use the Trolley daily to get to class; and ridership increased so significantly on schooldays following the addition of the Youth Opportunity Pass that MTS now offers extra weekday afternoon service for Preuss students. UC San Diego students with a U-Pass now have an easier way to get to campus and beyond and they certainly use it - there have been almost 2 million trips with U-Passes since the Trolley opened last November.
Employment
We gave riders an easy way to get to UTC, opening up more opportunities for workers to get to and from their jobs. Workers have been using the UC San Diego Blue Line with over 222,000 trips exclusively to the Executive Drive Station, one of the largest employment hubs in San Diego. The Trolley sails right over the 5 and into UTC making it an effortless commute that helps avoid the hassle of driving in traffic. UC San Diego staff have also responded to take advantage of the new commute option. Even though ridership is still down slightly overall from pre-pandemic levels, enrollment in the UC San Diego discount employer program is up 12% compared to pre-pandemic participation! Nearly 1,500 employees enrolled in the pass program for October.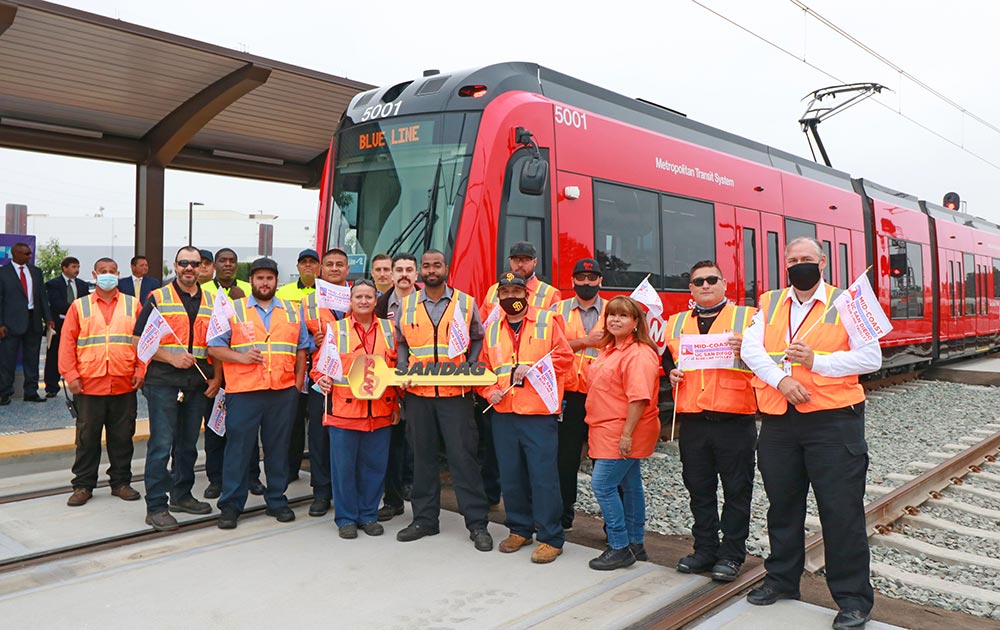 MTS Facilities Operations on the UC San Diego Blue Line Trolley
Supporting the new extension also takes a lot of work - from train operators to train maintenance, increased security, and station maintenance. MTS has added 117 operations positions to help maintain the newer stations. Here's a look at how our team has grown to help keep the service running smoothly all year long:
New MTS Positions Added:
28 Train Operator
20 Light Rail Vehicle (LRV) Maintenance
12 Maintenance of Way (MOW)
13 Facilities
44 Security
Entertainment
Opening up into UTC offered riders more ways to get to events and shopping. During San Diego Comic-Con, an estimated 100,000 riders took a trip from the Mid-Coast stations to the Convention Center and Gaslamp area along the UC San Diego Blue Line or the newly offered Special Event Line. For the 4th of July, over 2,000 riders hopped on board north of Old Town for the Big Bay Boom festivities along the waterfront in downtown. Riders now have more Park & Ride options to get to Petco Park for concerts and to Padres games, and stations at Nobel, Balboa and Tecolote have been popular for easy access to downtown (or easy to Snapdragon).
The extension also now provides a one-seat ride from San Ysidro all the way up to premier shopping at Westfield UTC, and there have been approximately 409,000 trips to the mall since last November. The UTC stop has the most boardings of any extension stations since the opening! (With the holidays right around the corner, taking the Trolley is fast and easy to give you a stress-free shopping experience!)
Ridership By The Numbers
19%
of all Trolley ridership is on the extension
12%
of all Trolley trips are on the extension
73%
increase in total Blue Line Ridership since opening
54K
vehicle trips operated on the extension
31K
hours of service operation
36
new vehicles added to the fleet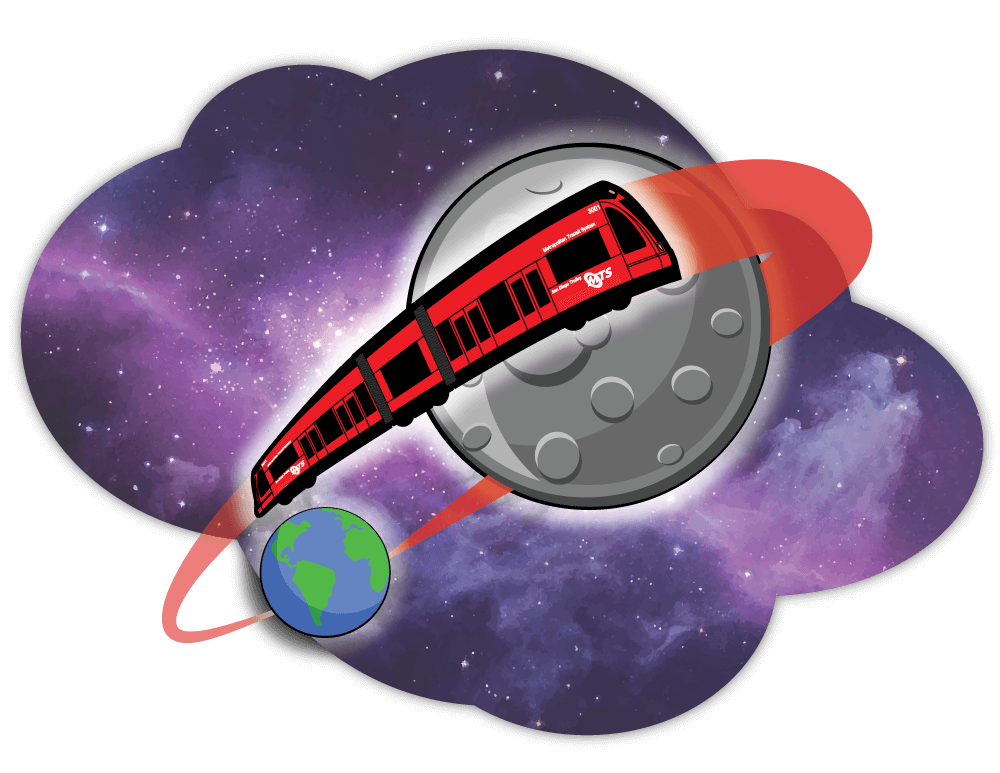 1.7 million car miles
Equal to 3.5 trips to the moon and back!
The UC San Diego Blue Line extension has opened up many opportunities for all types of riders - from students to workers, to people getting to the VA Medical Center or shopping at UTC, and even offering more Park & Ride options to popular events in other parts of San Diego. Here's to many more years of riding on the UC San Diego Blue Line!