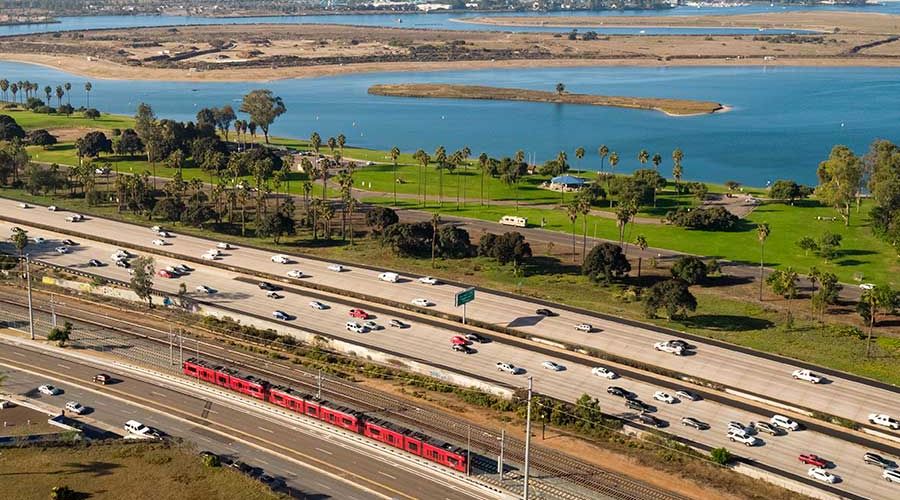 As Earth Day approaches, it's an opportunity for us to reflect on the choices we make and their impact to our home. Caring for the environment can look like a lot of things: reducing plastic use, composting, conserving water and more. But when it comes to air quality, there is one big change individuals can make to keep San Diego's notoriously sunny skies, well, sunny (and not smoggy). Transportation is the leading cause of greenhouse gas emissions. So, this Earth Day, if you're looking to make your small contribution to Mother Earth, read on to learn more about how taking transit can have a big, collective impact, as well as a few programs happening at MTS to further contribute to a greener San Diego.
Transit for the Planet
Every time you take transit instead of driving, you could be removing 1 lb of CO2 emissions per mile of your trip! It all adds up when you think about how many places you commute - to work, out to lunch, to school and activities, appointments, and more. The average Californian drives 12,000 miles every year. By choosing transit, you could prevent up to SIX TONS of CO2 from being released into the atmosphere! For reference, that's approximately the weight of an adult elephant!
Less CO2 emissions results in cleaner air, better air quality, and health improvements for our communities and even wildlife native to our area.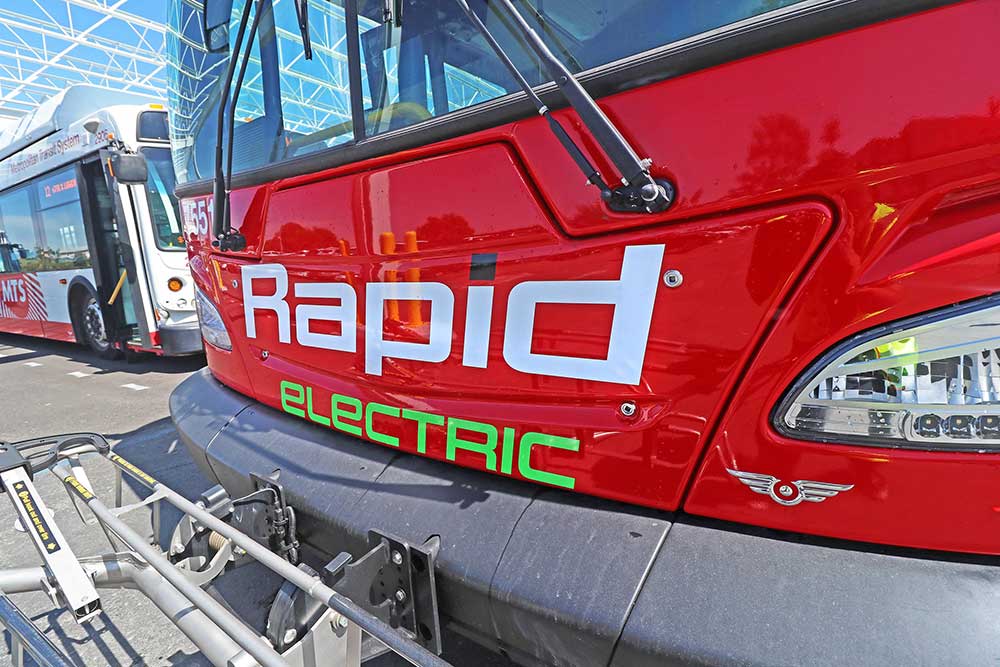 And while transit in itself is an environment-supporting function, here at MTS we're committed to maximizing our operations to be even more green-friendly as well. From LEED certified bus divisions to a zero emission bus program and storm water protection program, read about a few special projects that MTS is doing to help keep San Diego beautiful for generations to come.
Zero Emissions Bus (ZEB) Program
MTS is on track to transition to a fully zero-emissions bus fleet by 2040. We started our pilot program in 2019 with eight buses. The pilot program was in operation for two years to learn how the Battery Electric Buses (BEBs) will fit into our system. 
During the pilot, those eight BEBs helped remove 288 TONS of carbon emissions. That is equivalent to 4,762 trees grown for 10 years or 35,033,082 smartphones being charged! The BEBs have no tailpipe emissions, and additionally, there's no combustion engine noise which helps to reduce noise pollution.
We currently have 13 zero-emissions buses in service, and will be nearly doubling that total (to 25) this summer when we bring the first Rapid electric buses into the system. We got the first 60-ft electric buses delivered this spring, and will conduct ongoing testing and training throughout the summer until they are ready to launch later this year on our new Rapid 227 line, running from Otay Mesa to Imperial Beach.
MTS Storm Drain Protection Program
In addition to public transit being a great way to reduce carbon emissions, MTS does its part to help protect the environment with our Storm Drain Protection Program. The MTS Storm Drain Protection Program is designed to help contribute to the improvement of stormwater quality and the preservation of San Diego's water resources.
As a part of the Storm Water Drain Protection Program, the MTS Facilities team monitors MTS-owned open channels, drains and ditches for pollution and performs cleanup.
This cleanup includes:
Daily trash removal (such as food wrappers and water bottles) from bus shelters, Trolley stations, and maintenance facilities
Cleaning out storm drains and ditches to prevent sediment, trash, and debris from entering our waterways
In high traffic foot areas, there are awareness messages such as "Drains to the Ocean" on storm drains
If we didn't do this regular maintenance, then pollution would be carried off into the ocean after a big storm. With all of the rain we've had this year, it's important that we do our part to help protect our local waterways and the ocean from being a dumping ground for trash and debris. Water that enters storm drains isn't treated and all of that water eventually flows into our rivers, creeks, bays, and then into the ocean. Protecting our waterways helps to protect surfers, swimmers, aquatic organisms and other wildlife.
What can you do to help this Earth Day?
You can do your part to help with a few simple acts:
Choose to take transit. Taking transit helps to reduce greenhouse gas emissions (less CO2!) so we can all have clearer skies and improved air quality
Please clean up after yourself. Use the trash cans at Trolley stations and bus shelters to discard all litter so it doesn't enter storm drains
Recycle your plastic bottles and cans to prevent them from going into the landfill
See an overflowing trash/recycling receptacle at a Trolley station? Let us know! Call customer service (619-557-4555), use our customer feedback form, or alert us on social media (@sdmts).
Take transit this Earth Day to do your part in reducing emissions. And be sure to clean up your trash! It will help keep the storm drains clear and the water clean in San Diego so that only rain goes down the drain.