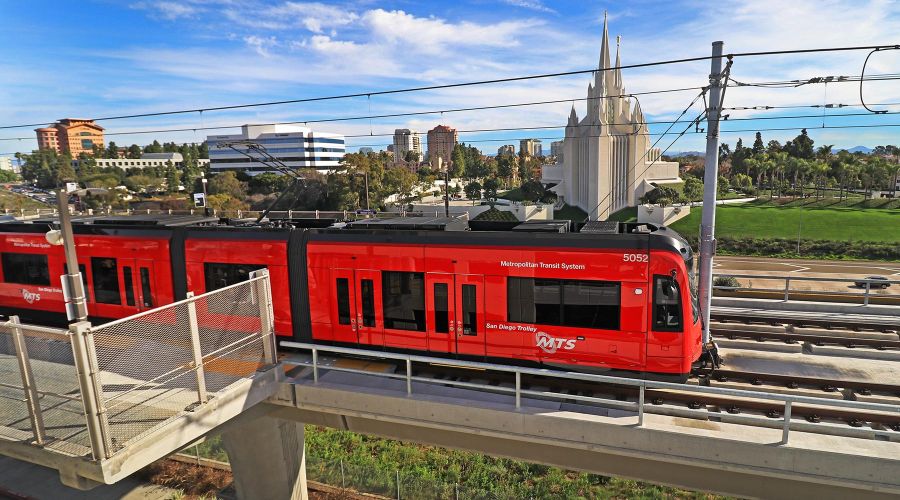 No car? No problem. Thanks to an expansive transit system, traveling around San Diego without a car can be easy, affordable and a convenient way to get around. MTS has three Trolley lines that can take you from the U.S.-Mexico border and up to La Jolla, and out to East County. MTS also has and an extensive bus system with more than 100 different routes to get you where you need to go. Visiting San Diego for a weekend getaway and being car-free is a great hassle-free and stress-free way to enjoy the town. Here are some useful tips to get you headed in the right direction.
The best way to plan your car-free trip is with the MTS Trip Planner. Plug in where you are coming from and where you are going, and our system will give you the best transit directions. You can also call our Information and Trip Planning line at 619-233-3004 to speak with someone about getting around San Diego.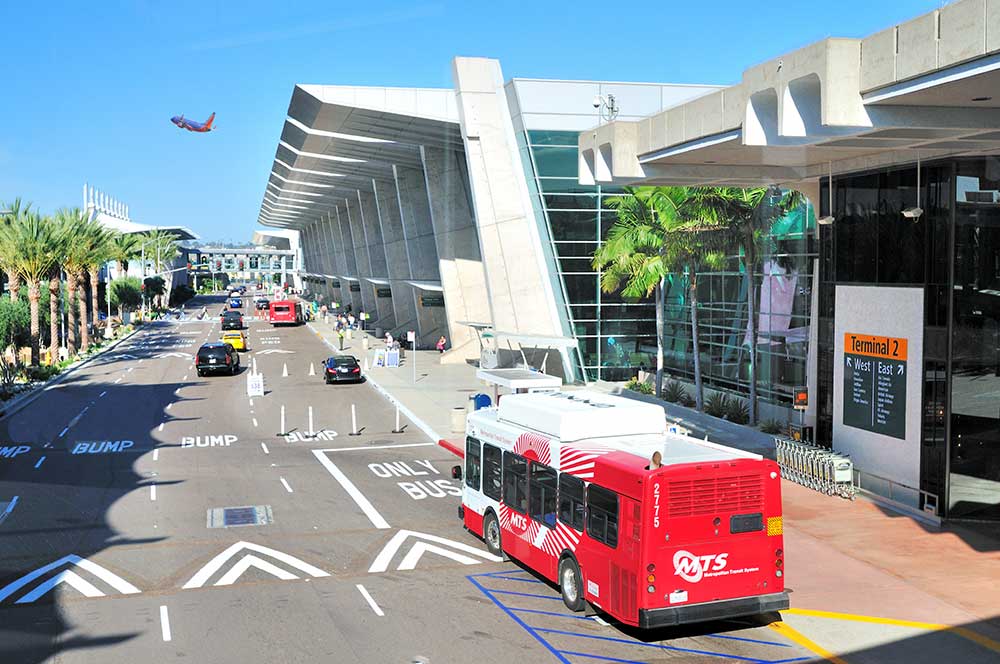 Arriving in San Diego via the Airport? Here are your options!
Route 992 stops outside of the baggage claim at both terminals. It takes 15 minutes to get to or from Santa Fe Depot in Downtown San Diego, then you can connect to all three Trolley lines, three high-frequency Rapid buses, the COASTER, and Amtrak.
The Airport Shuttle is called the San Diego Flyer and offers free service to the Old Town Transit Center. It operates every 20-30 minutes.
View our Airport page for more information about using transit to and from the San Diego Airport.
We recommend downloading our PRONTO app to pay for your fare while you're in town. You can create a free virtual card on the app and load it with money before your trip, saving you time after your arrival. The best part is that with our fare capping, you'll never pay more than $6 a day. With PRONTO you get free 2-hour transfers as well. The money will never expire on your account so you can easily load and have your fare ready for all of your travels.
Looking for ideas on where to go? Here are a few places in San Diego that are worth checking out.
Ride the Bus Over to Balboa Park and North Park For a Fun Day in San Diego
Route 7 and Rapid 215 are two of the main bus routes that will take you to some of the major attractions in San Diego. Rapid is a high-frequency, limited-stop bus service. Rapid makes it easier to get around quickly and efficiently.
Balboa Park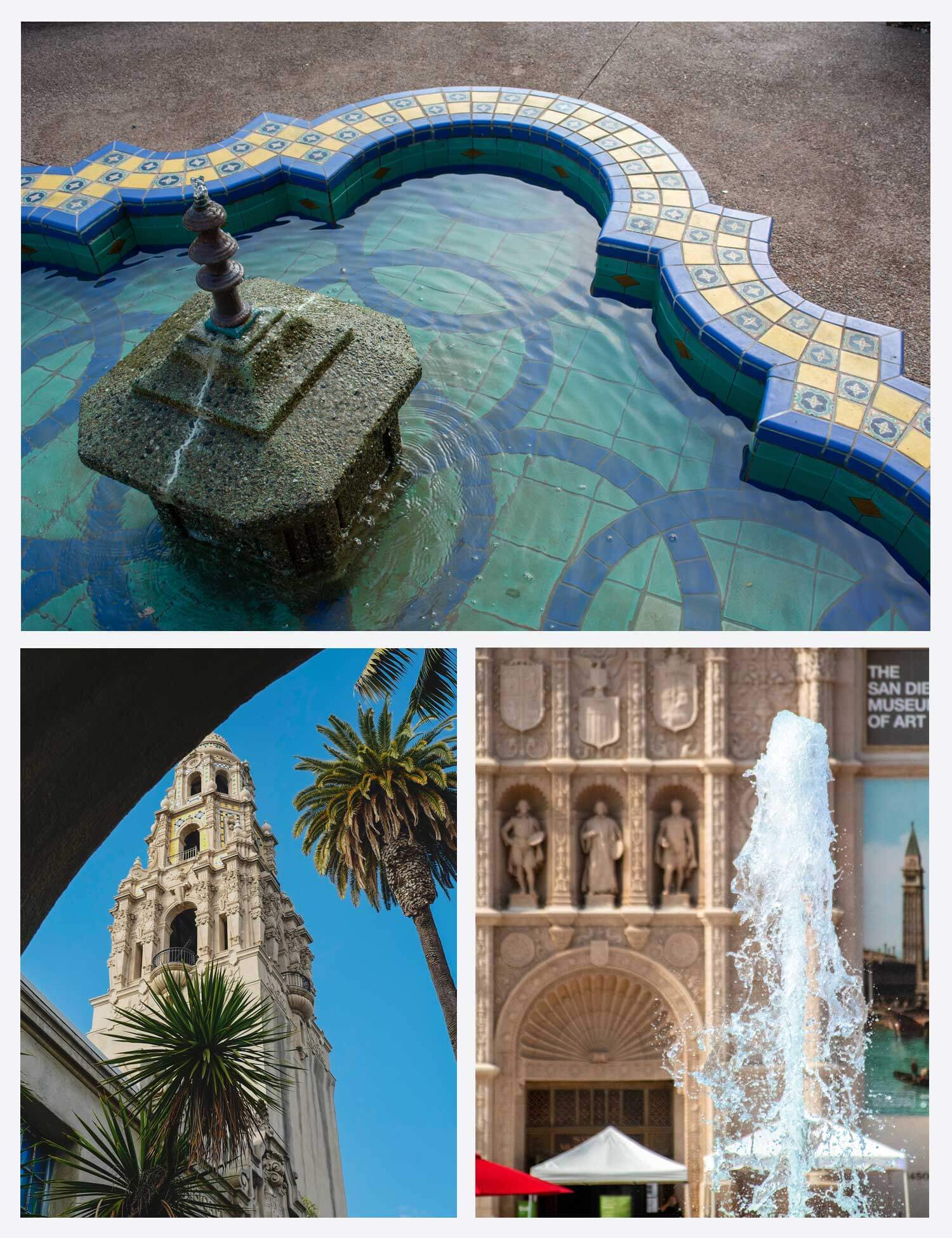 Clockwise from top: Photo by Leslie Yu on Unsplash | Photo by KC Welch on Unsplash | Photo by Kristen Colada Adams on Unsplash
Balboa Park is a major attraction in San Diego, filled with museums, parks, trails, gardens, restaurants, and more. The San Diego Zoo is also nearby. There's so much to explore here! The Rapid 215 or Route 7 will drop you off right at the entrance of Balboa Park.
Be sure to check out:
Spanish Village Art Center to explore artist studios and galleries
Museums such as the Museum of Us, National History Museum, Fleet Science Center, San Diego Automotive Museum, and more
Climb the California Tower for stunning views of San Diego.
Check out the free Twilight Concerts at the Spreckels Organ Pavilion (Tu-Th at 6:30 p.m.)
Explore the many gardens, such as the Japanese Friendship Garden, Inez Grant Parker Memorial Rose Garden, Desert Garden, and Zoro Butterfly Garden.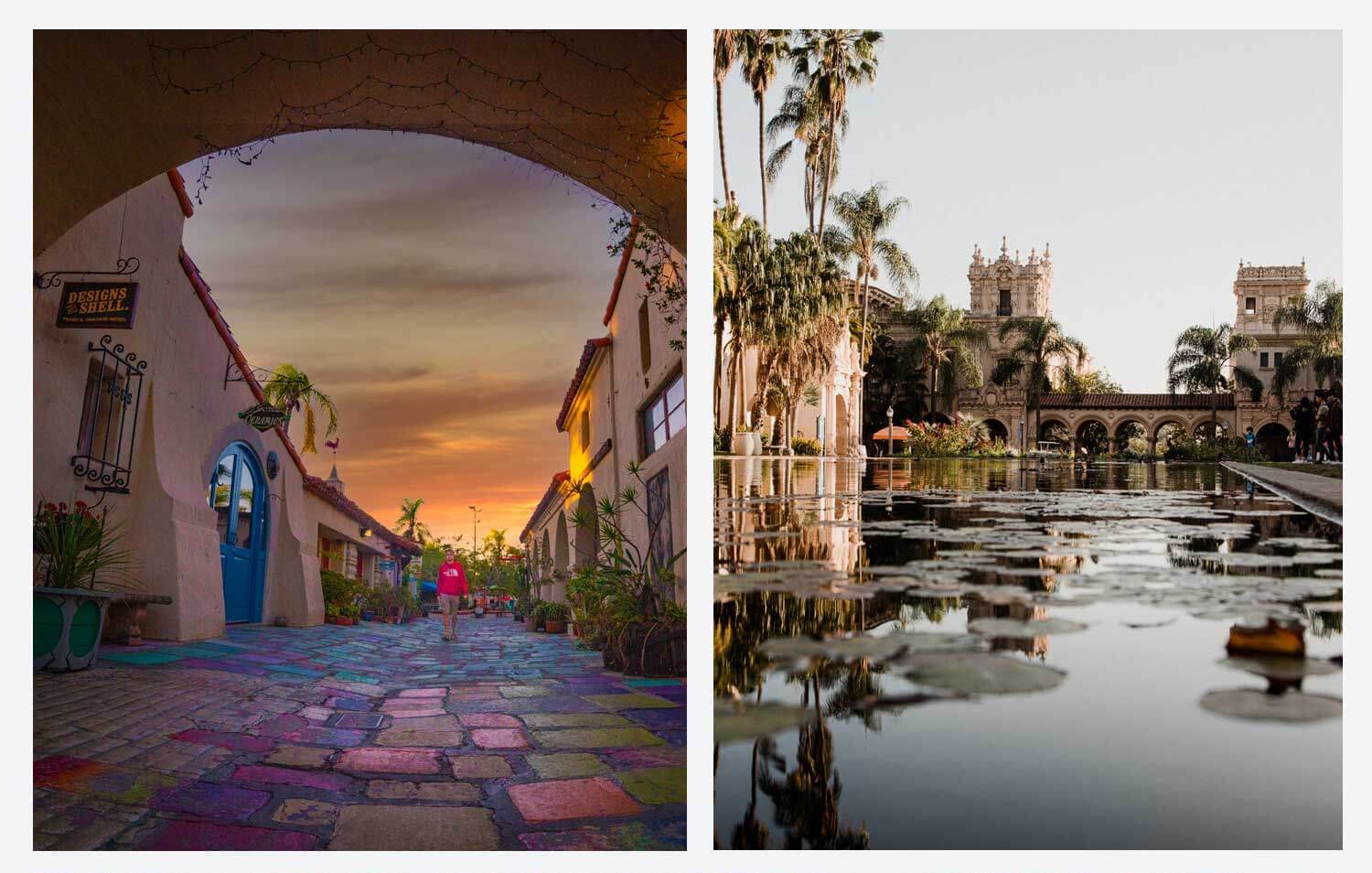 From left to right: Photo by Intricate Explorer on Unsplash | Photo by Zane Persaud on Unsplash
North Park
Next, hop back onto Route 7 or Rapid 215 for a ride into North Park for shopping, coffee shops, restaurants, and more.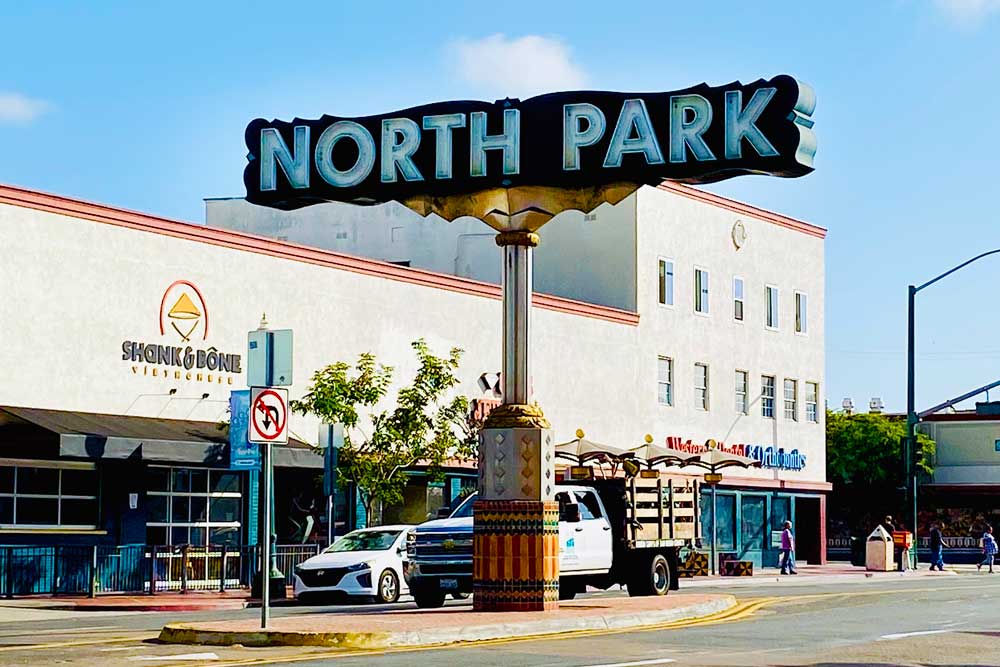 Photo by Taylor Rooney on Unsplash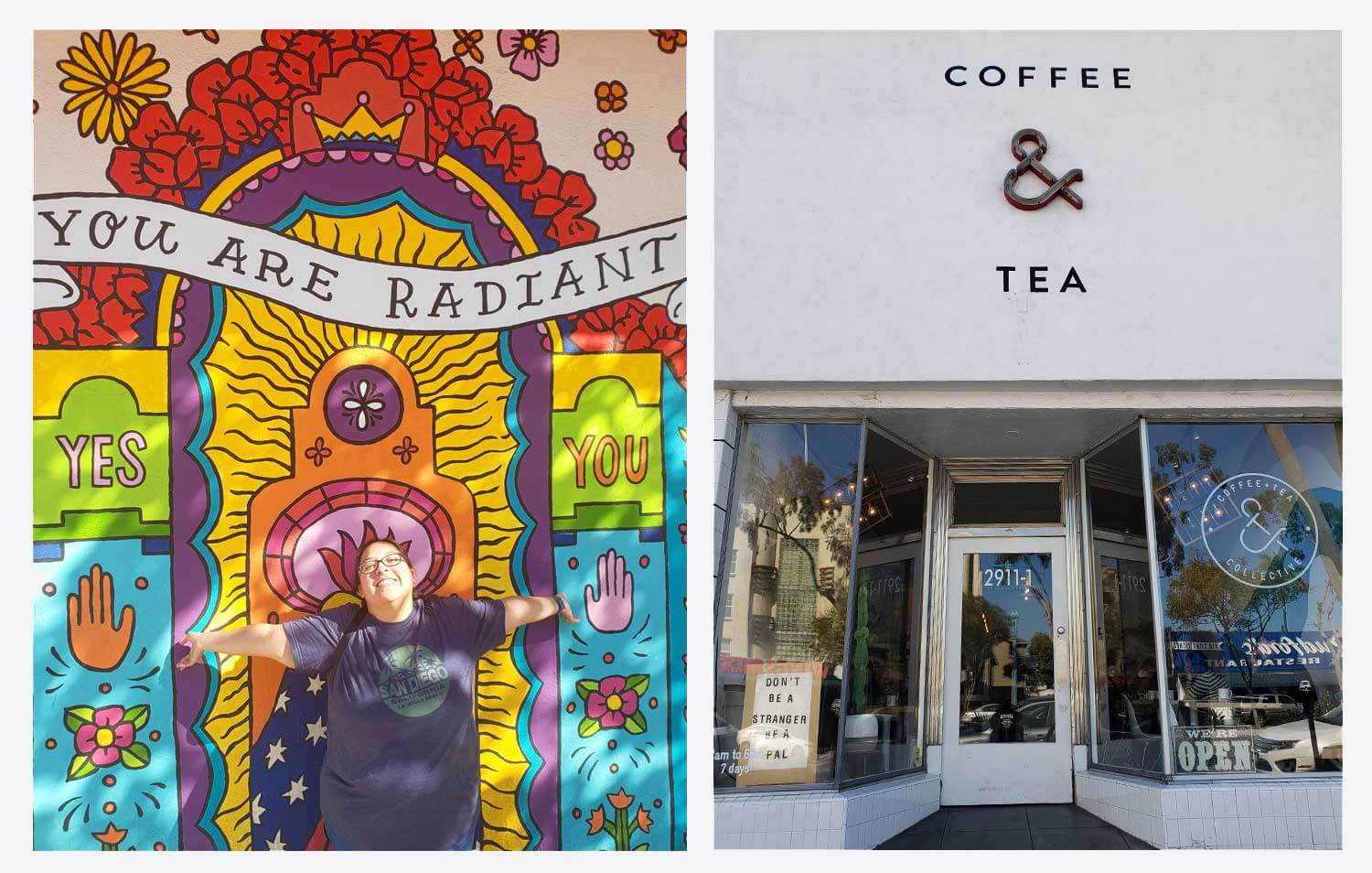 Some suggestions:
The North Park sign is a classic spot for a photo op.
Book shops such as the Meet Cute Romance Bookshop and Verbatim Books.
Fun stores offer unique and eclectic goods such as Pigment, Hunt & Gather, Artelexia, Red Brontosaurus Records, Fivespace, and Shop Good.
Grab a coffee at one of the many coffee shops in North Park, such as Holsem Coffee, Communal Coffee, Lovesong Coffee, Dark Horse, Coffee + Tea Collective, or Deja Brew.
Some favorite local restaurants include Lucha Libre Taco Shop, Shank & Bone, City Tacos, Crazee Burger, Encontro, and Mabel's Gone Fishing.
La Jolla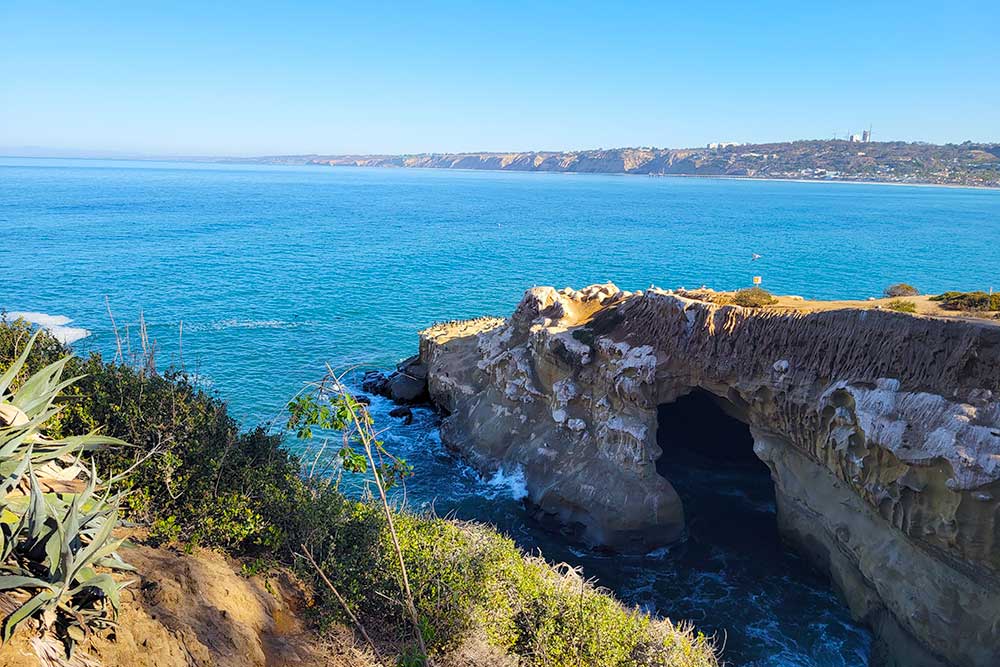 La Jolla is known for its scenery and beautiful coastline. Use Route 30 to get to La Jolla and spend the day exploring and shopping.
Be sure to check out:
The La Jolla Coast Walk Trail for some stunning ocean views
Sunny Jim's Sea Cave, the only sea cave accessible through a souvenir shop
The Children's Pool to see the harbor seals and sea lions
La Jolla Cove has stunning scenery and is popular with swimmers, snorkelers, and scuba divers.
Use the San Diego Trolley For Your Next Adventure
The Trolley will unlock your ability to get around faster and easier without the hassles you'd get from a car, like traffic and parking.
Little Italy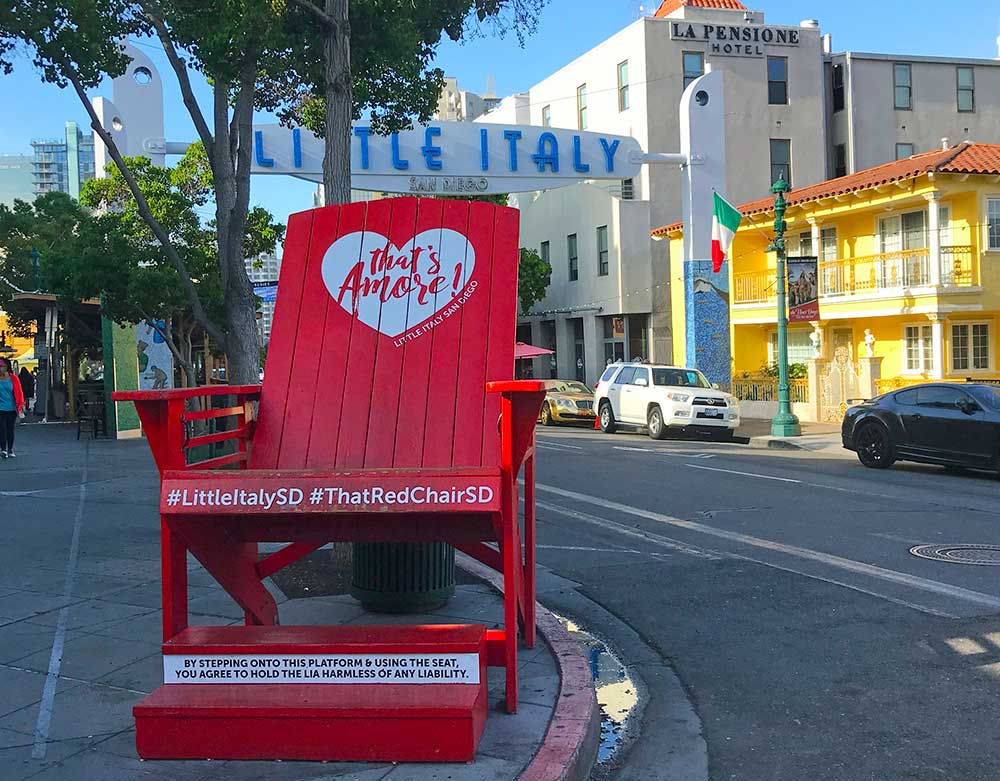 Photo by Kirk K - "That Red Chair"  is licensed under CC BY-ND 2.0.
Start your visit off with a trip to Little Italy. Get there with the Green Line or UC San Diego Blue Line. It's a quick walk from the County Center/Little Italy Station.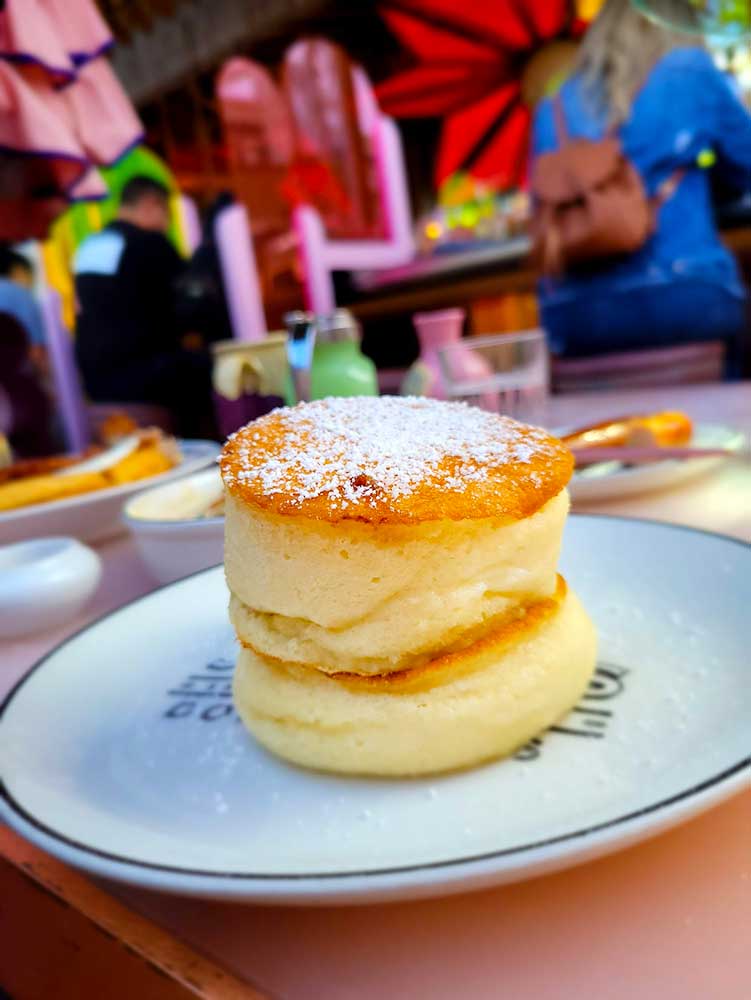 Things to do in Little Italy include: 
Starting your day off with a yummy breakfast at Morning Glory. Be sure to try their delicious Soufflé Pancakes for the lightest, fluffiest pancakes ever!
Coming later in the day? Check out the Little Italy Food Hall for a variety of dining options as many as the many restaurants that line India Street - there's a little something for everyone!
Little Italy Mercato farmer's market on Saturdays and Wednesdays
Galleries and boutique shopping
The San Diego Firehouse Museum featuring firefighting memorabilia dating back 100 years
Coronado
(Left to right) Photo by Janique Bulawa on Unsplash | Photo by Steady Hand Co. on Unsplash
After breakfast you can hop back on the Trolley to Santa Fe Depot and walk to Coronado Ferry Terminal for a quick 15 minute ferry ride to Coronado. Riding the ferry is a fun way to check out the bay on the cheap! Check out our blog post about where to go in Coronado via Route 904 (free from June 11th to Labor Day).
Seaport Village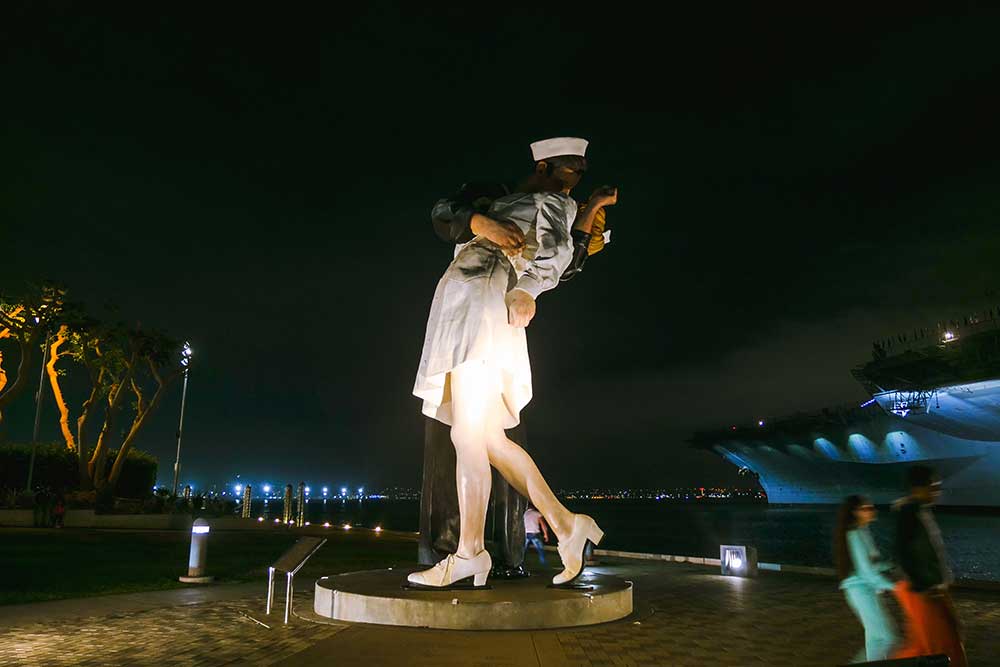 Photo by Kindel Media
If a ferry ride doesn't sound like it's up your alley, then visit Seaport Village, easily accessible from the Green Line's Seaport Village Station. Check out some unique shopping and visit the Headquarters, the site of our former police station headquarters.
Some things to see include:
Kansas City BBQ the location of a famous filming location from Top Gun
Pretend you got thrown in jail by visiting the jail cells at the Headquarters
Tour an aircraft carrier at The Midway Museum
Visit the "Embracing Peace" statue depicting the famous kiss photo from the end of World War 2 across from the Midway Museum in Tuna Harbor Park.
San Diego has many locations that are simple to get to without a car. Plan your upcoming vacation and let MTS handle the driving!