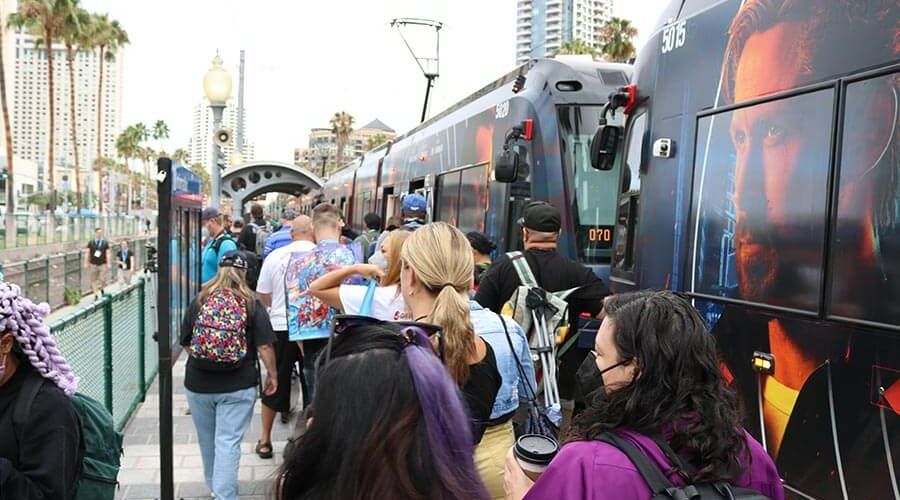 Ridership results are in for Fiscal Year 2022 (July 2021 through June 2022), and as the pandemic has eased, MTS ridership has increased across the board. The pandemic provided a major challenge for transit agencies across the country as commute habits changed, including MTS where we saw ridership plummet about 75% in early 2020. MTS worked to maintain service levels as much as possible throughout the pandemic, and we've seen encouraging gains in 2022.
Compared to the previous fiscal year, ridership has increased every month since April 2021 (with the exception of January 2022 where we saw an Omicron surge and schools delayed reopening). Increases were seen across the system, with 91 of our 96 bus routes seeing a jump.
Read on for a few fun ridership facts, and take our quiz to test your MTS ridership knowledge!
Back to School and the Office
Not surprisingly, some of the largest increases in ridership were along routes that serve major school and employment centers. The Rapid 201/202/204 routes all saw over 300% jumps in ridership as UC San Diego students and staff returned to school in person. (Of course, the UC San Diego Blue Line saw a significant jump in ridership with the Mid-Coast extension, more on that below!) The same kinds of results were seen with Rapid 280 and 290, which offer direct services from Escondido and Rancho Bernardo to the heart of one of our region's major employment centers in downtown San Diego. Ridership increased by about 98% on Route 280 and 177% on Route 290. Even Route 974, the Sorrento Valley COASTER Connection to UCSD, saw an increase of approximately 403% in ridership! People are getting back to work and school in person as we settle back into our routines, which includes commuting by transit.
Getting Out and Exploring San Diego
People were ready to get back to enjoying all that our beautiful region has to offer. Some additional routes that had a significant increase in ridership were Route 8 (Pacific Beach), Route 27 (Pacific Beach) and Route 41 (UTC/UCSD). Route 8 saw an increase of about 88%, Route 27 surged by 94% and Route 41 had a boost of 117%! Get out and explore San Diego while the summer months are still hot!
Overall, ridership is still lower than it was pre-pandemic (when we were on track to increase ridership for the first time in several years), and currently about 75% of pre-pandemic levels. We're encouraged to see weekday ridership more consistently hitting above 200,000 weekday trips, which is a good benchmark for our ridership recovery efforts.
Want to dig into the numbers a bit more? Make your best guess at some of our other ridership numbers - how many can you get right?
Scroll back up and click the red "View Accuracy" button to see your results!