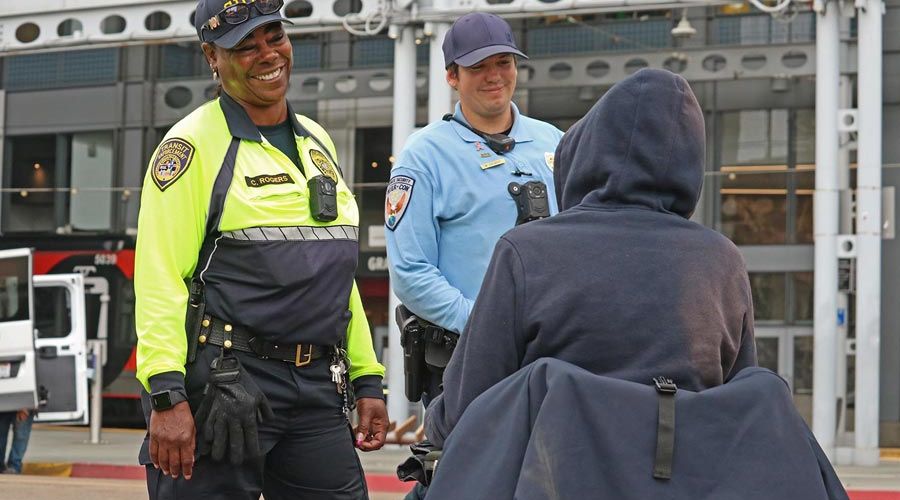 In the wake of many challenges that 2020 brought to our communities, one persisting challenge is the increase in people experiencing homelessness. A recent 2022 count of unsheltered individuals in San Diego County revealed a 10% increase from the most recent count in 2020.   
While not a housing provider, MTS has proven to be a critical link in connecting social workers and service providers with unhoused riders.
MTS Code Compliance Inspector (CCI) Cynthia Rogers knows firsthand the impact of leveraging the Trolley system to aid people in need. She's been working with Downtown San Diego Partnership's Unhoused Care Team for about two years. The team initially started the program at 12th & Imperial Transit Center before expanding to the entire Downtown loop, with hopes of continuing the expansion in the future as resources allow.
It's her role as the liaison to the Unhoused Care Team that propels Rogers forward in much of her work as a CCI with MTS. "I love what I do [and] I wish I could spend more time out there with the outreach team," Rogers said. "When [people] get whatever they were needing and come back and tell you 'thank you', it just melts my heart."
Working with Downtown San Diego Partnership, CCIs and social workers reach out and engage with people one-on-one. By speaking to people individually, they can learn more about each person's unique situation and find out how to best help them. By taking this one-on-one approach, they build a relationship based on trust and compassion to support individuals experiencing homelessness and make an effort to help improve their circumstances.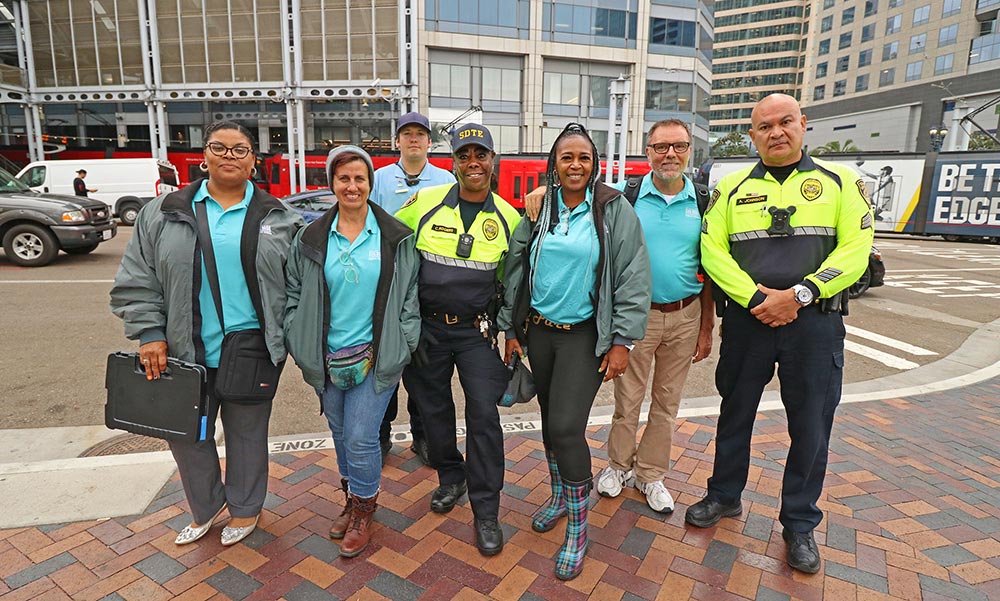 Support can vary widely based on a person's needs, from food, socks , sweaters, and pants, to information about shelter services and more.
Scan Health Care occasionally works with the team to provide medical assistance, such as blood pressure or diabetes checks, assisting with bad sunburns, and more. If the team isn't available, Rogers will get in touch with them if she sees someone that needs medical attention.
Additionally, a county worker will come to support unsheltered individuals by helping them sign up for ID cards and to apply for benefits like CalFresh and SNAP to get EBT cards for food. The team gives individuals information about shelters, such as the Alpha Project or St. Vincent's. If someone may be addicted to alcohol or drugs, they reach out to the Harm Reduction Coalition of San Diego to assist people into rehab.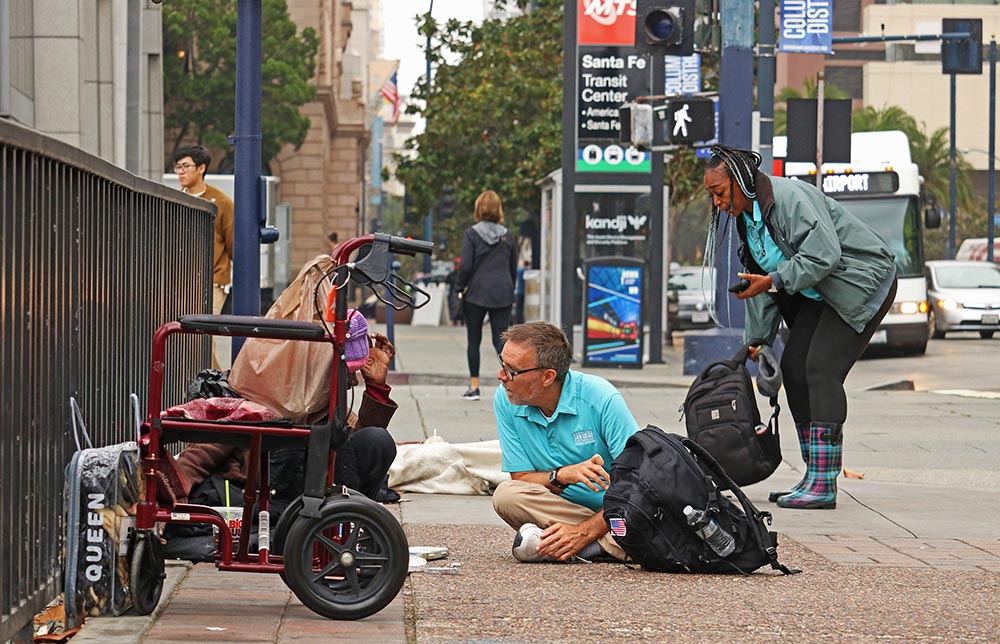 While the team does as much as it can to support riders experiencing homelessness, there are still challenges.
"The challenges I face [are] the young adults who are just out there, addiction keeps them out there and it's just so hard trying to convince them [to get help]. We say 'we have a bed and we can have you placed in rehab' but they don't want to come," says Rogers. Other times individuals will tell her about mistreatment. "They think that because they were mistreated in one shelter, they will be mistreated in all shelters, so they decline to go."
The people they do support stand out in Rogers' mind and encourage her to press ahead despite the challenges. "We helped this gentleman who was living across the street by the Greyhound [Bus]. He was in a wheelchair. He had been living out there for a while and he was missing a leg and he was on drugs. We worked with the Harm Reduction team. They took him into a place and got him into rehab. I saw him one time on the Trolley and he was like, 'Thank you. I now have an apartment.' He was doing real well and was all cleaned up."
And, in another full circle moment, Rogers recalls someone she and the team assisted who would eventually become a co-worker at MTS. Years ago, she said, "I used to write him citations and we had conversations like, 'You know, you're better than this, you can do better than this.' He got his life together and he's thanking me. And now, he's a bus driver."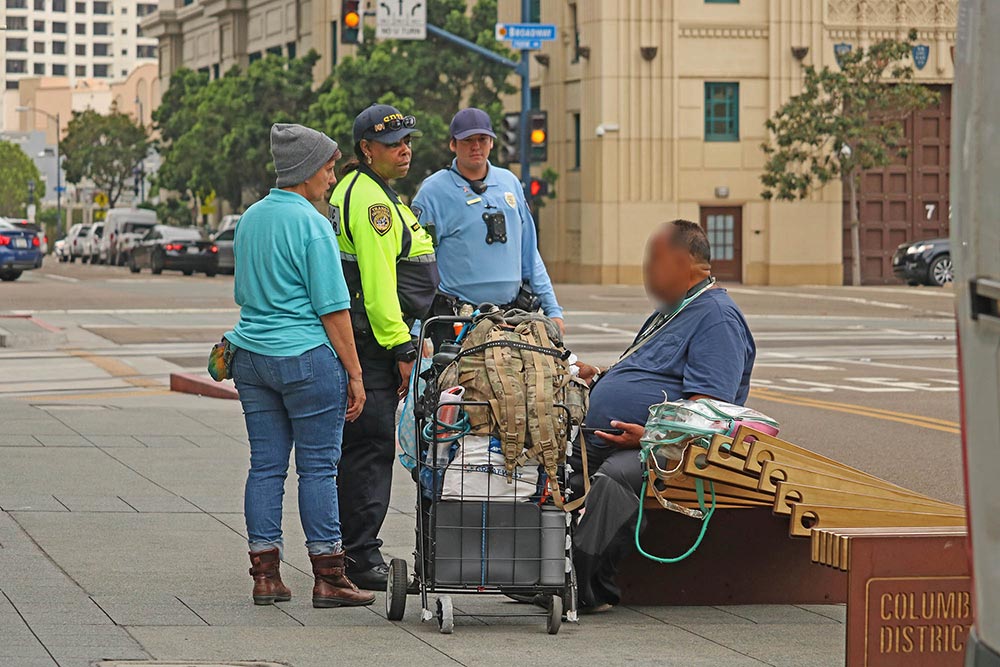 While Cynthia is just one of many CCIs, the team is looking to create more resources for other MTS Passenger Safety and Security team members, including a regionally-specific phone packet that other CCIs can hand out to offer resources when they see someone in need.
While it can be difficult, Rogers says that she does it because she loves helping people. "It's so rewarding to hear someone say, thank you, you know. Thank you for your help. Thank you for what you helped me with. You helped me get housing. You helped me get clothing, you told me where I can get food," Rogers said. "I see people [we'd previously worked with] on the Trolley sometimes and they'd be like, thank you. Thank you so much. You saved my life."
MTS and the Unhoused Care Team currently conduct outreach on the MTS system twice a week. The partnership between the two teams has turned out to be very important to MTS and the community.
"Not only are we helping those in need, but we are also providing our riders with a pleasant public transportation experience," says Al Stiehler, Director of Transit Security and Passenger Safety. "I think that, together, we are the perfect example of the difference that can be made when organizations are willing to work outside of silos and focus on the needs of individuals. We have had tremendous success in the relatively short time we have been operating this program," said Stiehler. "Homelessness, drug addiction, and mental health issues are all problems facing our area, and only by addressing them in a holistic manner can we really make a difference for the people we serve."
As we look to the future, MTS will continue to expand efforts by reaching out to other groups in the hopes of securing additional resources to increase outreach to more individuals who may require these services.
---
Related Posts