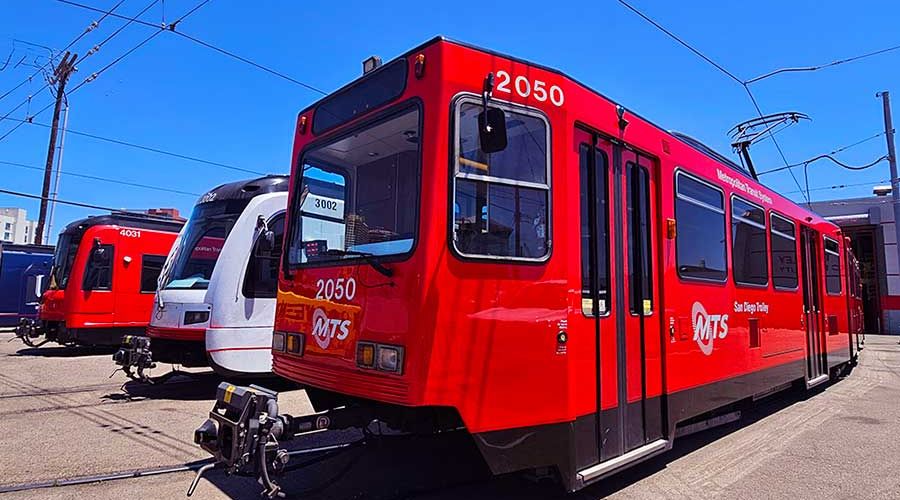 It's been 42 years since the San Diego Trolley rode the rails for the first time back in 1981. In celebration of the Trolley's anniversary, we're taking a peek back at the history of the Trolley and how it all began.
San Diego Streetcars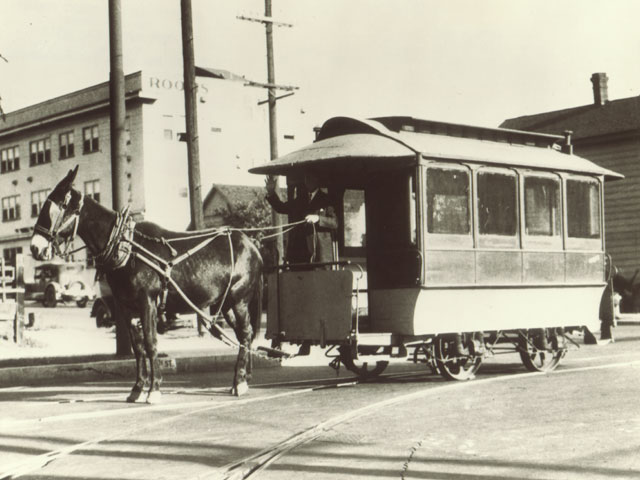 An open air street car, drawn by two mules or horses, makes its way up Fifth Avenue at D Street (now Broadway) with a top speed of 5 miles per hour.
The first streetcars were open-air coaches pulled by horses (or mules) back in 1886 and a ride cost only 5 cents! In 1892, John D. Spreckels (the one that Spreckels Theater is named after) bought a failed streetcar operation and brought it back to life. It provided streetcar service through areas such as Mission Hills, North Park, Kensington, and East San Diego through the 1940s.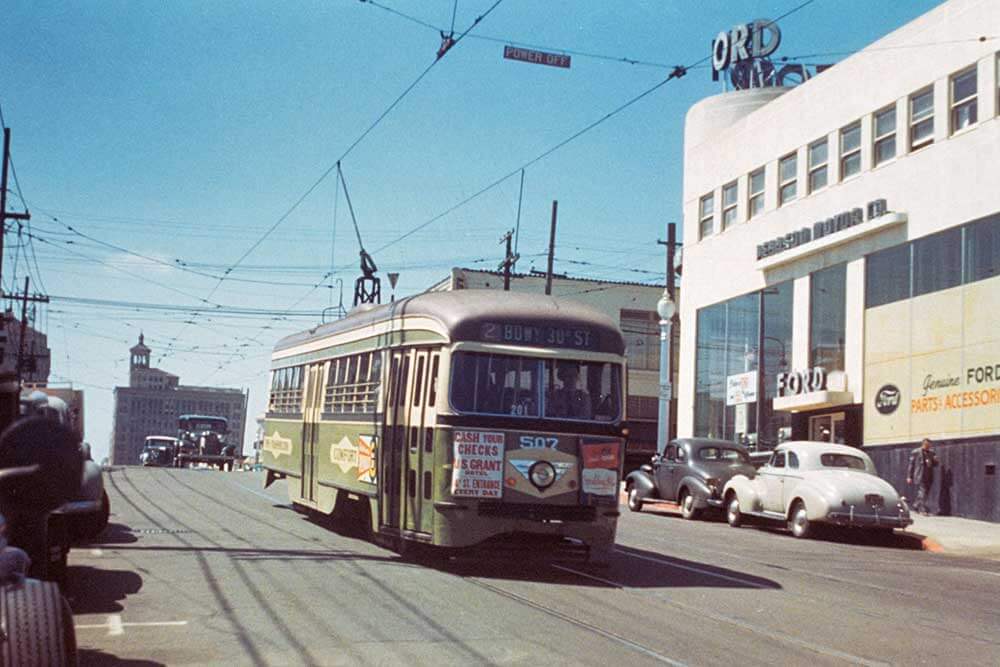 San Diego Electric Railway PCC streetcar on Route 2 travels eastbound on Broadway between 12th Ave. and 13th St. in the late 1940s.
After World War II, streetcar ridership was at an all-time low after the rise of automobiles. The streetcars were retired in April 1949 as San Diego transitioned to a bus-only system. Rail vehicles wouldn't reappear in San Diego for another three decades!
A New Hope
It wasn't until California enacted the Transit Development Act in 1971 that there was a glimmer of hope for a new rail transit system in San Diego. The Transit Development Act led to a constitutional amendment for a gas tax for public railways in 1974. With this new influx of funding for transit, local leaders had to build consensus as to what type of rail system would work best for San Diego. Ultimately light rail (aka the Trolley) was adopted as the only viable financial option. The system would use an existing railroad line abandoned after Hurricane Kathleen. Even more appealing was the project would use no federal funding (which means it could be built faster). The construction took 30 months to build, and amazingly finished ahead of schedule.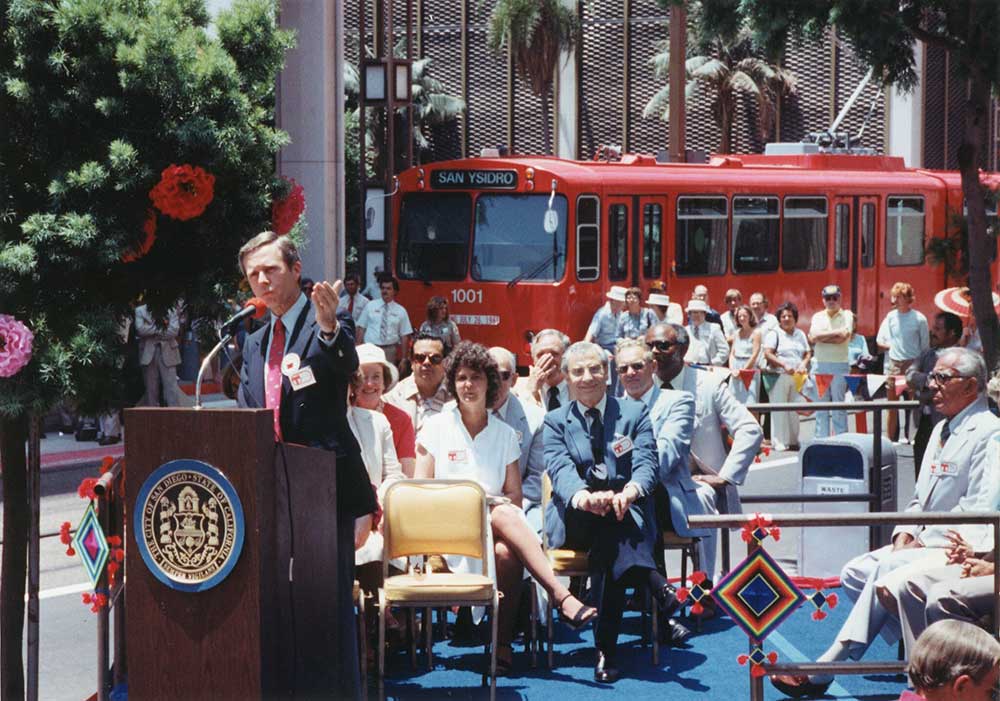 The first light rail vehicle made its debut on July 26, 1981.
Trolley Lines and Expansions
On July 26th, 1981 the bright red light rail vehicles (LRVs) ran for the first time. San Diego's system is considered to be the first modern light rail system in the United States.
The Trolley operated on the South Line (today's UC San Diego Blue Line) and traveled across 18 stations from Santa Fe Depot to San Ysidro. The San Ysidro station directly serves the busiest land port of entry in the world. And, to this day, ridership to and from San Ysidro is a key driver to the Trolley's success.
In March 1986, the Euclid Line opened, adding 4½ additional miles of track. The remaining 11.1-mile extension to El Cajon opened in June 1989 and was called the East Line (now the Orange Line).
In June 1990, the Bayside Line (going to the Convention Center from 12th & Imperial) opened originally as an extension of the East Line.
It wasn't until November of 1997 that the South Line was renamed to the Blue Line, and the East Line was renamed to the Orange Line.
The Green Line started service in July 2005 when the Mission Valley East extension was completed, closing the gap between the Orange and Blue Lines.
More recently, the UC San Diego Blue Line was extended north to UTC in November 2021, now offering a one-seat ride from the U.S. – Mexico border all the way to La Jolla/UTC.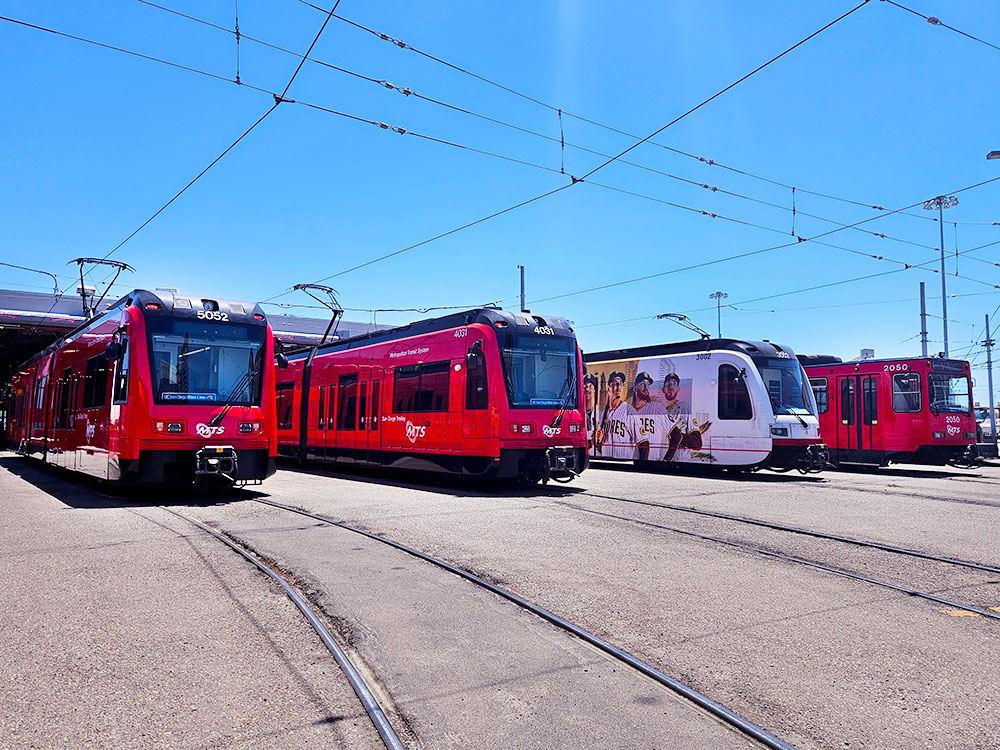 Examples of all of our vehicle types.
Speaking of colors… Why don't the vehicles match the color of the lines?
One of the biggest reasons why our vehicles are only one color is that it would limit our flexibility.
"We have 168 vehicles that (for the most part) can go anywhere, anytime. If they were limited to the line that they run on, we wouldn't be able to make operational adjustments, as needed," explained Brent Boyd, Manager of Service Quality and Special Operations - MTS Rail. "If there's a breakdown on the Green Line and we need to run more service, we wouldn't be able to run other trains on that line. For special events we can run a lot of extra service because an Orange Line train has pulled in and we can run it on the Green Line, for instance."
Maintaining a larger fleet just for the sake of colors doesn't make financial sense, plus San Diego is known for those bright red Trolleys!
Adding to the flexibility of our fleet, another unique aspect of our system is that all series of Trolley cars are operationally compatible.
"An SD100 car from 1997 can be coupled with a brand new S700 car and operate together in the same train. This is not the norm at rail transit operations and something that has afforded MTS maximum flexibility with our fleet, enabling us to provide even more efficient service levels for our passengers," stated Andy Goddard, Superintendent of LRV Maintenance.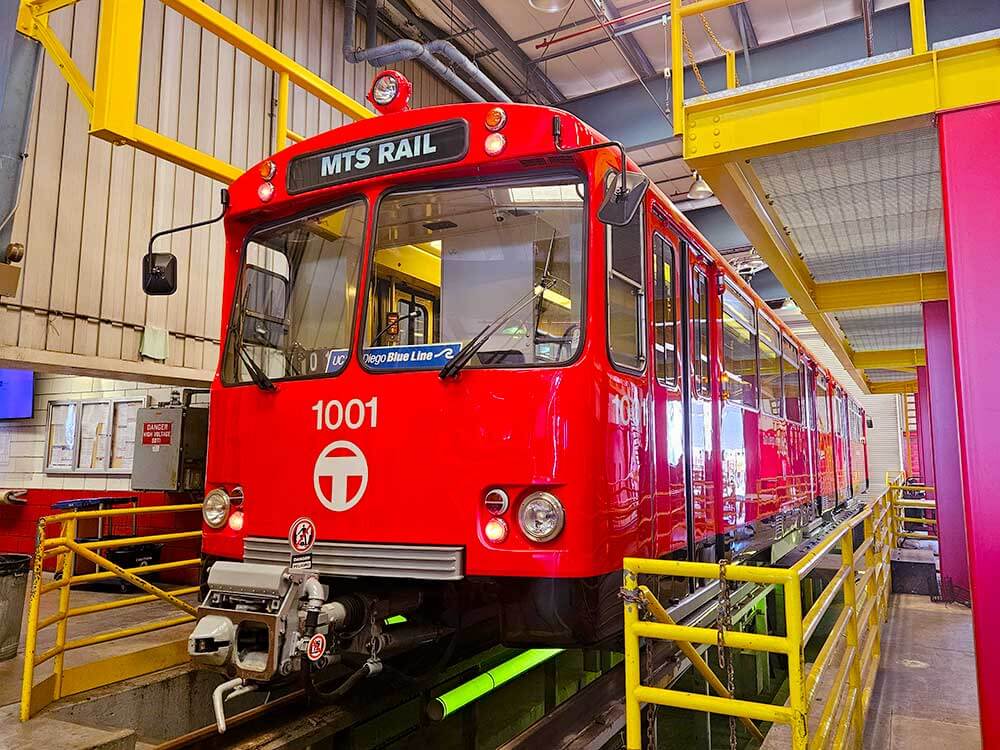 The now vintage 1001 car, the first LRV put into service, sits down in our maintenance shop.
Then and Now
Our original fleet consisted of 14 LRVs, and we now have expanded to 168 LRVs plus two PCC streetcars and the original 1001 car for the Silver Line.
The original fleet of LRVs was very mechanical in operation. The first cabs were equipped with an audio cassette deck (children of the 1980's will remember these very well). Station announcements were made by the operator pressing a button on the dash to play a short recorded audio announcement. Cassettes had to be rewound when done (or flipped over). Cassettes were replaced by a digital announcement system around 1997-1998.
The original 14 cars were not equipped with air conditioning and instead had cuckoo fans on the roof for ventilation. There was only a single "computer" on board and it weighed close to 100 pounds. On the newer low-floor fleet (which thankfully all have air conditioning), cars have 27 interconnected computers onboard to control and monitor propulsion, braking, slip/spin, doors, announcements, digital signage, camera systems, and diagnostics.
Ticket Prices
When the Trolley first opened in 1981, the ticket prices were quite different! Our system runs on a barrier-free (i.e. no turnstiles) self-serve system where riders purchase their tickets and all doors open for easy on-and-off boarding. Not many systems run a barrier-free system like ours, where code compliance officers do random checks to ensure that passengers have a paid ticket.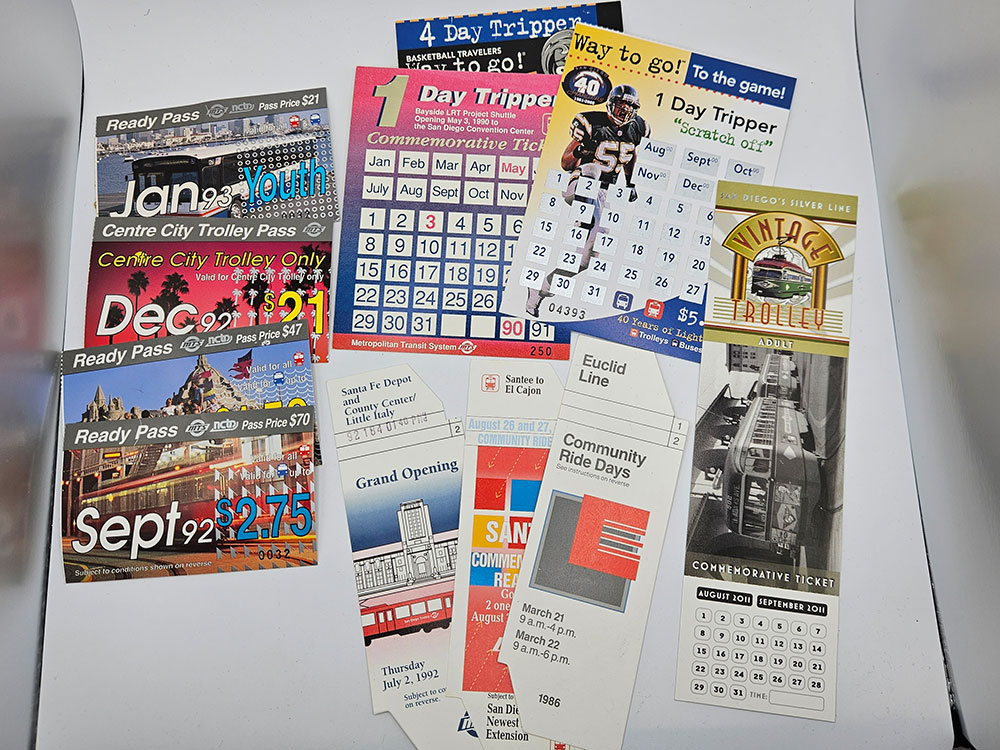 A few commemorative tickets and passes from years past.
Here are the opening day fares (1981):
Santa Fe Depot to San Ysidro: $1.00 for adults and $0.40 for seniors.
One-way rides within Centre City (Downtown): $0.25.
Monthly passes: $31.
10-ride ticket booklets: $7.50.
Several different pricing structures and ticketing systems have appeared over the years, from zone fares, Ready Passes, and the Compass Card, to today's PRONTO fare system.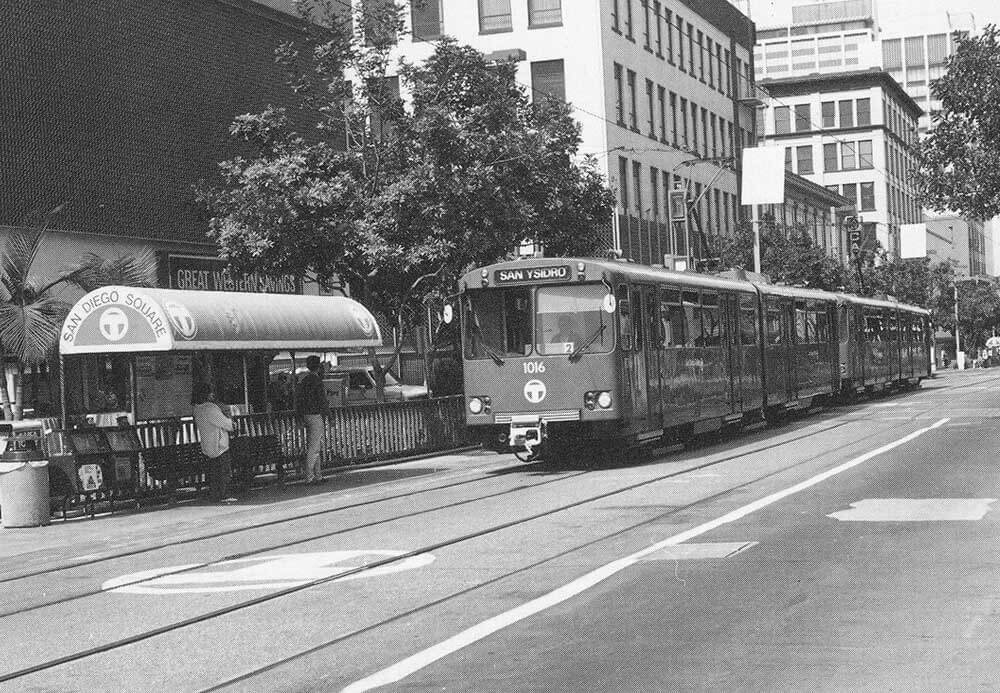 The now defunct San Diego Square Station was closed in March 1986.
Station Name Changes
Over the years, some stations have been moved or renamed. Here's a quick list of some of those name changes.
Once there was a station between City College and Fifth Avenue called San Diego Square. It was removed due to low ridership and its close proximity to the then-named Gaslamp Station (now Fifth Avenue).
Fifth Avenue Station used to be called Gaslamp before it was moved south when the Bayfront Line (now Green Line) opened, with a new Gaslamp Quarter Station.
El Cajon Station was previously named Main & Marshall
Lemon Grove Depot was once called Broadway Lemon Grove
Park & Market was labeled as 12th & Market before the name change
Gillespie Field Station was once called Weld Blvd
Bayfront/E Street was renamed to E Street
From horse drawn streetcars, to electric streetcars that traversed many neighborhoods, to the system we have today, the Trolley has had many changes over the years. MTS is always adapting to new technology and finding the best way to serve our riders.